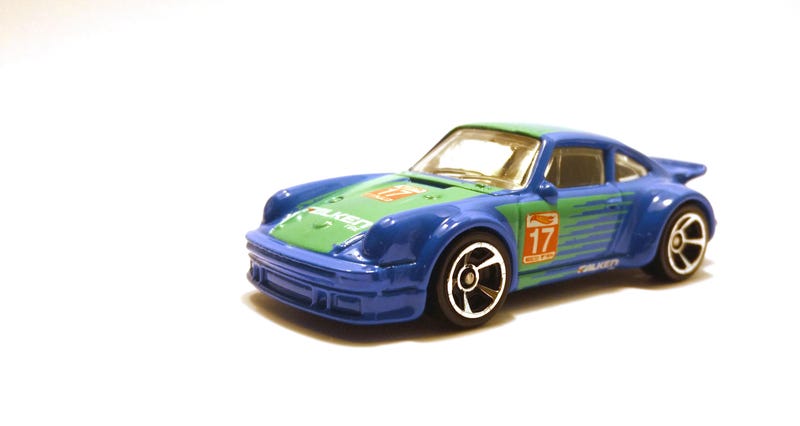 Stumbled upon a restocked dump bin tonight at Walmart. It was filled with a bunch of 2016 releases and the Camouflage series that features castings such as the Camaro ZL1, '67 Shelby GT500, and Ford F-series truck (don't remember the exact model). I only picked up mainlines, trying to limit the number of cars I buy, as I'm starting to run out of space to display all my cars. Sorry, I did not take photos of the dump bin and the Camouflage cars as I should have. I was much too eager to start digging.
Porsche 934 in Falken livery. Not a huge fan of Falken or Falken liveries, but that casting is just too good.
Lamborghini Huracan in orange. I wish they did it without the black stripe over the car, but still a nice model nonetheless. One thing I really appreciate is the painted exhaust. It's a simple thing that really adds a lot to the car.
I finally found a Ford Escort. The F&F was nowhere to be seen over here, but I'm glad to have this one. The execution of the foglights is questionable, I have to say.
Finally the Toyota Baja Truck. Or do they call it the Off-Road Truck? Either way, I love this deco and it screams classic Toyota racing. Now I can toss my other Baja truck in the trash as this one is far superior.

As usual, no sign of the 180SX. Thus, the hunt continues...
EDIT: I should also mention that Walmart also restocked on Retro Entertainment and the Road Trippin' series. There were a few 007 2000GT Roadsters and the yellow Taxi from Retro Entertainment but no 007 Corvette.
As far as the Road Trippin' is concerned, it was the mix with the Scirocco GT4, which should also include the Toyota 2000GT. Naturally, the 2000GT was nowhere to be found. Hmm...