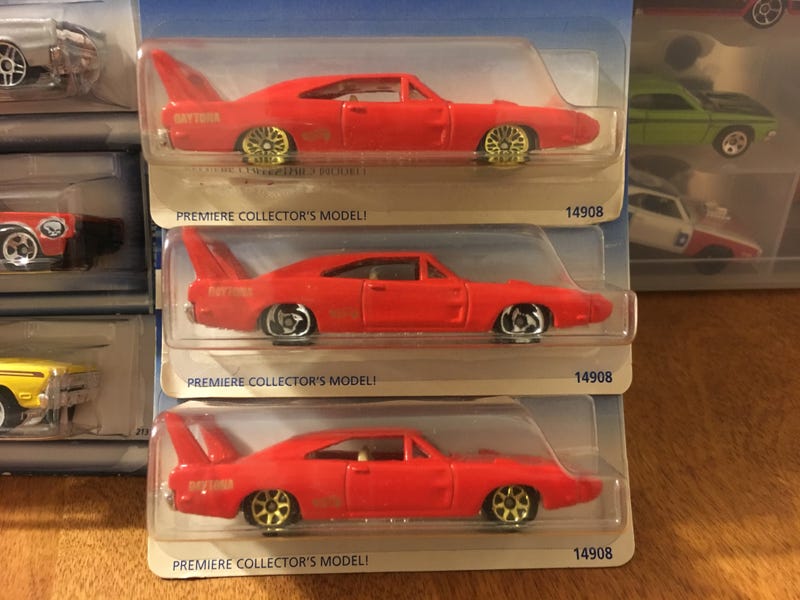 Digging through my old carded collection tonight. I decided to haul out the boxes to find some inspiration for new customs, but ended up just cracking a few open.
I'm always annoyed at teenaged me's determination to have one of absolutely everything. It's obnoxious. I have so many cars!
Most of you who have talked to me probably know me as a JDM guy, which I am. But I am also a first-class contrarian, which means I have a tiny Mopar streak. The wheel variations in the top photo are a natural draw for me... but at some point 14 years ago, I decided that $3.95 was a good enough deal for this Roadrunner. Mainlines were $0.78 at Kmart back then, sheesh.
I love the variations on this Olds Aurora! The completely different paint and tampos, and the different names on the cards. Crazy cool. These will probably get DLM'd soon.
General Mills Richard Petty cars from the early 00's. Back in the box with you!
Here's a bunch of redheads. The fiver is from about 2013, but everything else is circa 2000 or older. This is dumb, but Ferrari's turn of dominance in F1 turned me off of the prancing horse, and I never really got back into them. So you guessed it, back in the box!
Anybody remember when Ferrari made Mattel do this stupid crap? Lol. Oh Ferrari, you silly.
Last, and probably least... did somebody say they were looking for Good Humor trucks? This one doesn't have the GH name, but I think it's the same casting. The little dude standing in the back cracks me up.
Anyway, if you made it this far, thanks for reading. Good luck on the hunt this week. Peace!