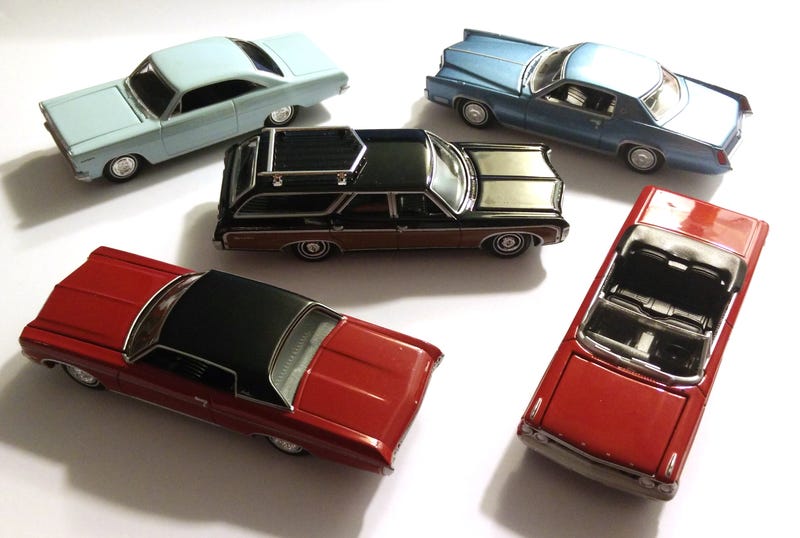 With LaLD Car Week out of the way, I can now catch up on photographing and posting some of my recent hauls. I've been able to find many of the Auto World Release 3 cars at the Walmart I frequent and I couldn't leave them behind. I love the detail and execution of these models and the quality is top notch. It's a great feeling to know that you won't get any defects when you purchase a premium diecast piece. Other than a slight paint issue on the Fairlane, these cars are flawless.
It's also worth noting that I have zero interest in these cars in their respective 1:1 scales, yet my Auto World collection keeps growing. As long as they keep their quality and detail up on their releases, I will always come back and grab some more. Here are a couple shots of each car. Enjoy!
So there are 6 cars in this wave and I have 5 of them. That means I'm missing one, which is the 2015 Mustang GT. Actually, I found it...

but...
but...
Aww, darn! Come on man, don't do that. It's a shame because this was the one I wanted most out of Release 3. Oh well, time to scour other Walmarts for the Mustang GT.
Meanwhile, I also picked up a couple M2 and a couple Hot Wheels. Here are the M2's.
This is an older (maybe?) release that I found also at Walmart. Not sure as to why or how they got it. Perhaps someone returned it, but hey I'll take it.

Next is the Chevelle from the Lunati Bootlegger Walmart exclusive series. I have no idea what this Lunati Bootlegger is and I don't care enough to look it up. This Chevelle is the only one from the entire series that I found. Someone must have snatched the rest up, but that's okay. I've always wanted an M2 Chevelle.
The quality of the wheels is awful and the axles are bent where they connect to the wheels. Make sure to closely inspect your M2's before purchasing!!!
Finally, the Hot Wheels, both from Target:
Plymouth Satellite Wagon is decent, but HW made zero effort to add printing on the front and rear. For a premium series, that's unacceptable.
I found the FR-S! I love when HW makes their wheels this gray-ish color. Looks so much better than that tacky flat black.
That's it folks! Thanks for looking!