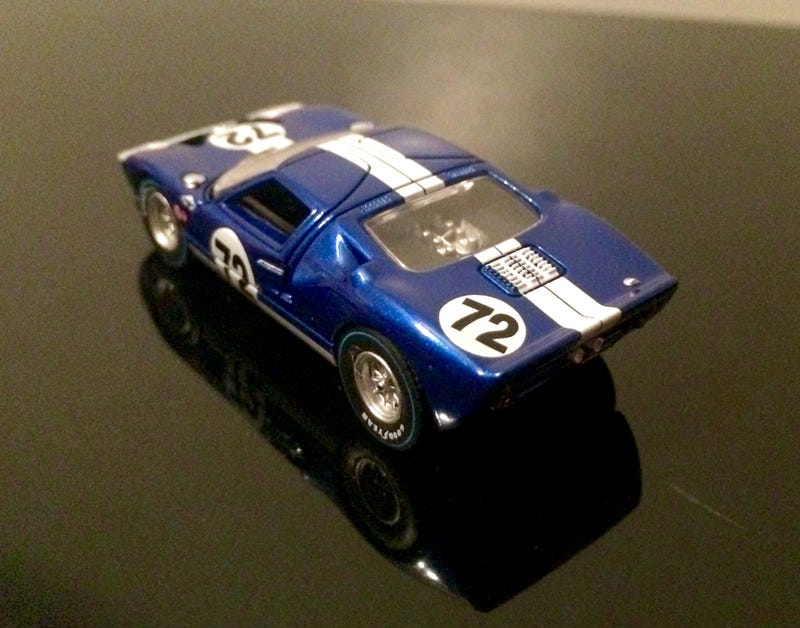 Look at that Ford GT40. Looks great, right? Well, it's pretty good. In fact, I like it. But....
THE HORROR!!!
Seriously, this diecast is so close to being perfect it hurts. Somebody clearly forgot to cut the tampos for the stripes on one side.
Somehow I didn't notice this in the store. I must have been blinded by how great the rest of the cast is.
EDIT: According to a photo jedimario found of the No. 73 car (seen below), the wide front stripe was apparently actually a thing. AW apparently got the two mixed up and either applied the wrong number or the wrong stripe pattern.
Unfortunately nothing opens on this cast, but it's still a nice cast with some (mostly) nice details.
The engine bay is mostly covered by a flat plastic piece, leaving only the headers exposed. Guess that's not really a problem when the rear hatch doesn't open.
The tires and the wheels are really nice, so there's that.
AutoWorld has started making some nice premium casts in a short amount of time and they're usually pretty easy to get here because everybody hawks the Hot Wheels and ignores the other brands.
But man this one was so close to being awesome. AutoWorld has been recycling the Callaway Corvette cast across its different premium series this year but hopefully they do a different one soon so I can add it to my collection. I'm a fan of their "mainline" version of the 1967 Corvette 427. Would love to see a premium version.