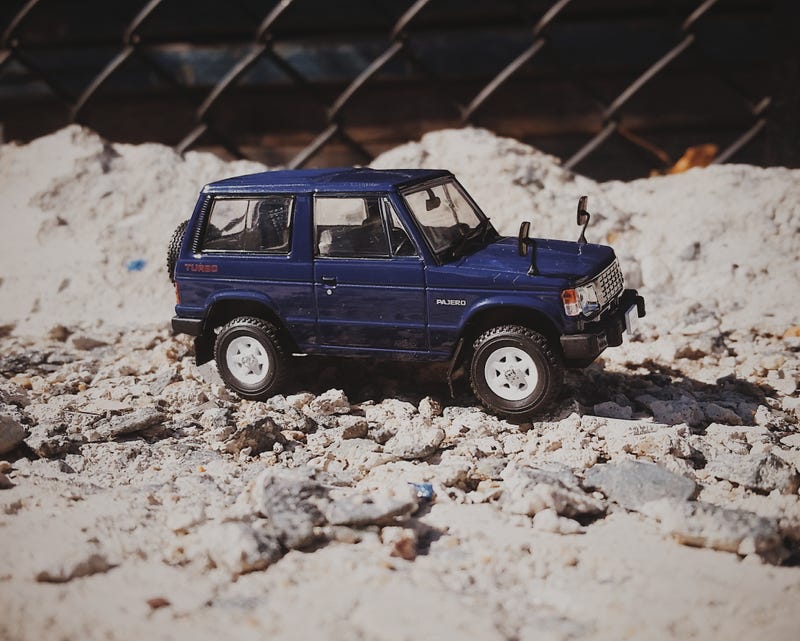 I forgot to bring my French car with me to the office today for French Friday, but I will try to take some pics tonight. But what I do have here is a 1:43 Norev Mitsubishi Montero (or depending on what market you bought it in a Pajero, Shogun, Dodge Raider etc...) Much like the Camaro I posted Wednesday this is a model of a vehicle I own in 1:1, albeit in the wrong color with some minor trim differences. I collect old Mitsubishis both scale and real and my daily driven vehicle is an '88 short wheelbase 2.6 4x4 Montero. Always fun to have scale models of your real cars.
Pulled it from its protective case to get some good shots. Took the truck out back and posed it in some dirt piles that actually looked pretty scale.
Some nice light duty off roading commenced.

Very happy with the scale on this one. For a fairly inexpensive diecast, it is pretty well done. It matches up close to my 1/1 inside and out and is let down mostly by the locating pins on the headlamps and tail lamps. Quick shot of my actual truck in closing.