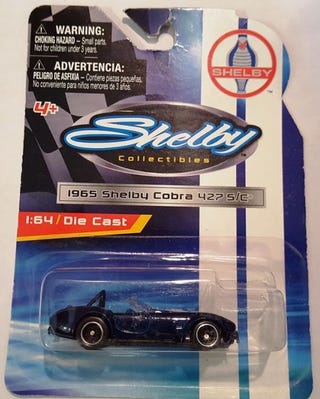 Coincidental timing with Ford winning GTE-Pro; I stopped by the local Dollar Tree and noticed this Jam'n Products: Shelby Collectibles(TM) Cobra 427 S/C. To be honest, it looked impressive for a 1$ diecast, not too far off a JL or AW, so it was worth grabbing. I only have one other 1:64 Cobra, my Hot Wheels '01 Mainline Classic Cobra.
Packaging is a bit busy on the front and rear, the cardboard is really flimsily, and the plastic is so thin you can actually puncture it with your nails. But who cares when that Cobra is begging to be liberated?

So, here they are side-by-side. Upon first glance, the HW Cobra is HUGE compared to the Jam'n Cobra despite both supposedly being 1:64. Although this isn't a surprise for an old HW diecast dating back to 1983 and HW's typical exaggerated proportions.
According to Wikipedia, the AC Cobra has a length of 156 inches, which is about 2.4375 inches in 1:64 scale. Jam'n Cobra has a length about...2.4375 inches while the HW car is about 2.625 inches.
Scale accuracy: Jam'n.
Proportions-wise, Jam'n nailed it a lot better than HotWheels. The HW Cobra has an odd-looking front end compared to an actual Cobra or even the Jam'n Cobra. The headlights on the HW are too small and located too high up. The Jam'n Cobra at least has little bumps where the turn-signals would go, unlike the emptiness of the HW.

However, both cars do nail the amazing tail-end of the Cobra with its iconic hips and rounded rear. Credit to HW for including the fastener locations on their die for where the complex convertible top would go. Jam'n's Cobra has a more accurate tall 3-point rollbar that came with competition and street-comp Cobras along with an accurate license plate location.
Body proportions and accuracy: Jam'n
The underside comparison is pretty close with HotWheels having slightly more detail by including the bottom portion of the driveline being completely visible on a nice, thick, and heavy metal chassis. Jam'n location for their manufacturer detail prevents a chance to see their take on the oilpan of a 427ci side-oiler. But what's this? Hello, Mr. Screw, could this mean the Jam'n can be disassembled like a M2 Machines and allow for easy customizing?
Underbody detail: Hot Wheels
For wheels, Jam'n wins this portion hands-down. They accurate nailed the Halibrand magnesium wheel design and they look good, if a bit small in the front, with a non-factory staggered setup (Cobra same with a squared setup, AFAIK). Hot Wheels didn't really have that pattern in 2001 so their good-looking LW, lace wheel, is more appropriate for the earlier non-competition Cobra...despite looking like a donk but when you're 9 years-old in 2001 you don't care about wheel size. Both seem to roll pretty well, even my HW in its current abused shape.
Wheels: Jam'n
Interiors are almost a dead tie. They're not that detailed with the dashboards and steering wheels but while HW has an interesting x-shaped belt molded into the bottom of the seats, Jam'n has a two-point belt mold with visible latches for the belts in the center.
Interior: Jam'n
The Jam'n Cobra has the correct Guards Blue paint with white tamp stripes, silver headlights, and even a proper Shelby Cobra badge on the nose! The Hot Wheels looks more like Cobra replica with flames owned by a middle-aged man living his 80s midlife crisis or from the drawing book of a elementary school student. That said, the ruby-red metal-flake paint on the HW is AMAZING when struck by light.
Paint: Tie
Here's where things get interesting. The HW Cobra has a detail not found on the Jam'n Cobra, an opening hood! The hood will stay in place if you open it up hard enough and will allow you to get a good look at the set of 4 two-barrel, individual throttle bodies flanked by filled cylinder head covers.
Features: Hot Wheels
Winner: Jam'n Products' Shelby Cobra 427; 4-2-1
Honestly, the HW Cobra has been a good little diecast that's served me well through its rough life as my stunt and play car, taking crashes and scrapes without a problem. If you're looking for a good play toy for your kids, then the HotWheels Cobra would be a wiser choice as you and your kids will get your moneys worth banging it around for years to come. If you're more for accuracy and displaying purposes, then swing by your local Dollar Tree and scoop one up since you're getting 90% of JL and AW quality for a quarter of the price.