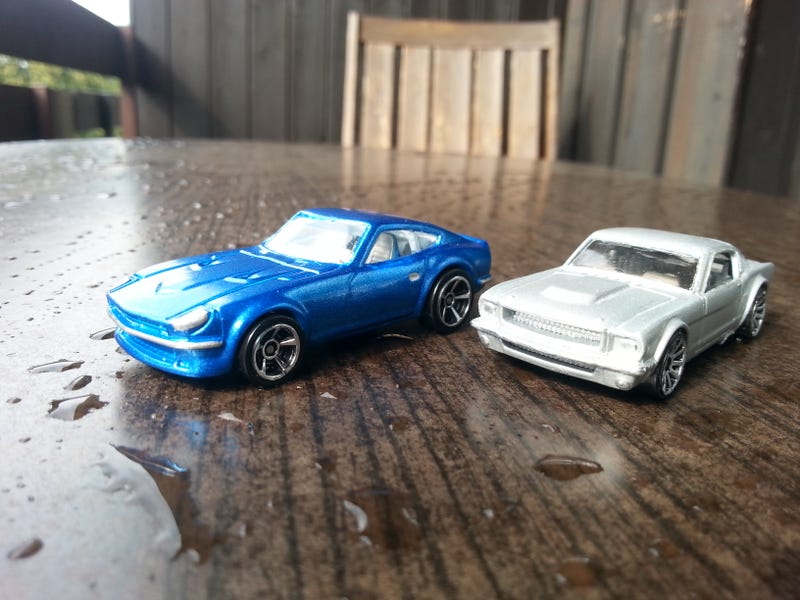 Earlier on I got the white Datsun 240Z with full on racing livery, and the light blue '65 Fastback 'Stang with all the racing stripes.
I have a fondness for these Mustang because of this childhood memory:
So of course I had to get one! It was just that the colour didn't really please me and that the tampos already had holes on them. On a car that was still on the card. Again: How dare you Hot Wheels????
The white Datsun was O.K.-ish. Just zero details on the car, and the tampos looked like Ray Charles did one side and then told Stevie Wonder how to do the other. Standard H/W stuff, but then I saw this video:
Something had to be done!
The Mustang was my "practice car", so it went first. I masked them up. No drilling rivets involved! For those who might think "Can I do this as well", yes you can! Tape up the windows with some tape, use a cutter knife to cut off the excess tape, a bit of scotch tape for the wheels and there you go. For the Datsun I used two layers of tape for the windows to minimize imperfections. Success so far!
I only had two rattle cans with some juice left at the time, so silver it was for the Mustang and metal-flake blue for the Datsun. The silver is actually heat-resistant paint that I used on my Simson's exhaust pipe, no wonder it turned out rather flat. Silly me! The Datsun I also baked in the oven at around 130 degrees Fahrenheit for an hour, which might have helped as well. It's shiny!
Oh, try to ignore the GTO "The Judge" that's trying to photobomb. I kept shooing it away, but it just wanted to show off it's new head- and taillights.
Flat silver is a bad colour for more details. They both have headlights and chrome bumpers, but they are hard to see on the 'Stang.
Shitty weather today didn't help with the lighting. I have discovered that I get the best pictures on a clear, sunny day when dusk starts to set in. If you squint a little you might see a hint of the bumper/lights in shiny silver.
Datassun! Or has that been trademarked already? I just love how it turned out! Not perfect, but soooooo much bettter than before.
Random Mustang ass. Think what you will of my little project, it gave me some time when I didn't have WÖRK WÖRK floating around in the back of my head. And the taillights alone transform this whole car.
Now, to you lurkers, and we know that you exist! It's O.K. you can come out of the closet on your own time and be welcomed here. Should you think "This is all nice and well, but I just want to give this Nissan R34 some headlights so it doesn't look like a blind person anymore. Do I need to buy a property to build a shed on to work on them?" Nooooo! It's much easier that that!
This time around I used some paint markers for the details. Pretty cool stuff. And thanks to TE71 XIN (did I get that right?) for giving me the idea! You can find them in any hobby store/everywhere. They are like paint on a felt-tip. Shake, pump and go. The black one even was a fine-liner.
I always thought that Hot Wheels cars came from the factory (stuffed with blind people as it seems) the way god/allah/buddha/that pastafarian thing intended them to be. But heck no! There's always a way to make a H/W look better.
Just do it and post them here! Can't wait to see what you come up with.
And thanks What the Fuck did you do to me? to this forum for showing me a rather cheap and easy way to play around with cars that I like and relax after a hard day's work!