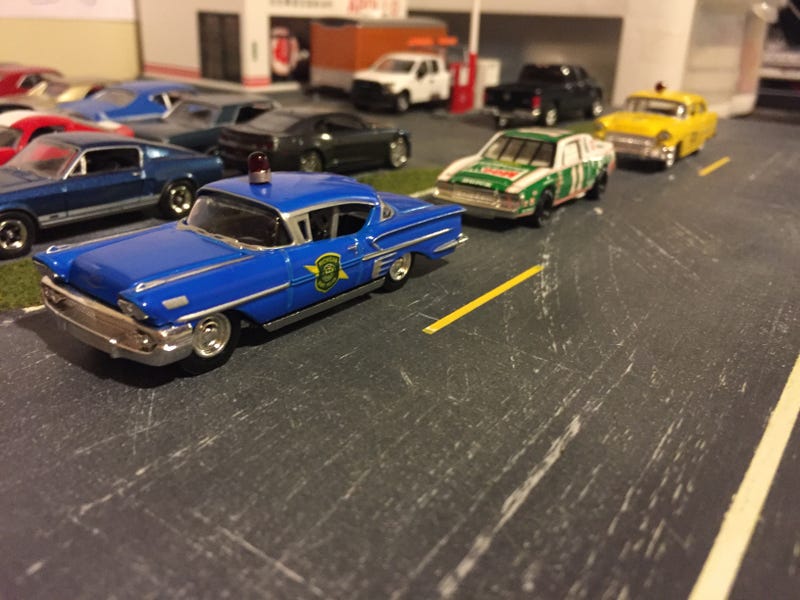 Well, all of them except the JL ones. :p. To recap, my mom-in-law bought me three cars, two Racing Champions and a HW.
First up is my favorite out of the bunch, the RaC '58 Impala that is a Michigan State Police car. I finally have a cop car from my home state, hooray! Now RaC usually does whatever scale they like, as they focus on the car fitting the blister package, but this Impala is practically 1/64 scale. It could be a tad longer, but everything else matches up! :D
Plus the detail on the casting is awesome. Sure, the base is plastic, but you can't have everything!
Next up is this HWs Buick race car; which Buick? I don't know, :(. Still, it's a really nice size, possibly a HW 100%, and has a highly detailed engine bay and underbody. Like, you can see through the engine bay. It's fantastic.
Mom got this for before because I used to drink a ton of Mtn Dew, :).
Lastly, the RC '55 Bel Air. This guy is chunky! Because OCD and a good eye, I discovered the whole casting is actually 1/5x something. The length and height of the car should be smaller if it was 1/64. Still, I greatly appreciate the detail on it!
Obligatory cop car pic, since the Impala has obviously joined the ranks of the local police in patrolling the streets for people breaking the law.
Which one was your favorite LaLD? :).