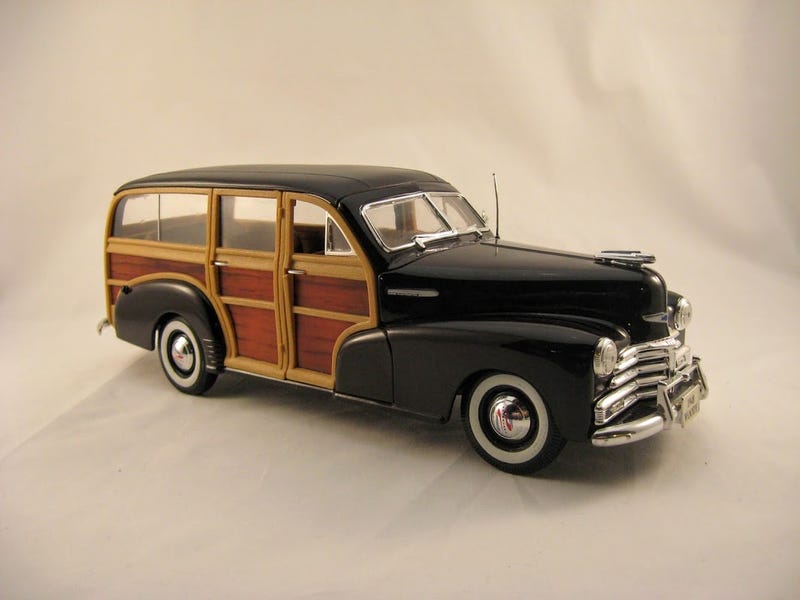 On this weeks Feature Friday, I will be showing you guys my 1948 Chevrolet Fleetmaster Woody by Maisto.
This is quite the mixed bag, leaning on the better side. It is, however, a very unique piece in my collection and wouldn't have aquired it if it wasn't for a trade with shop-teacher.
All the small details are spot on, while big ones, like the "wood", are less than perfect. The wood for example: it's a bit cheap and looks like it belongs on a later vinyl "wood" car.
That's what I mean by spot on detail. The chrome acts like a mirror and the whitewalls even have Firestone branding.
The chrome is spot on all over, and while there is pegs on the lights, they are well done and look great.
And then there's the wood. Definitely not Maisto's strong point.
Compared to other Maisto's of the time (roughly 2002), this engine is a gem. And it really is quite good. It goes all the way through, has many colors and different parts.
It even has cables/wires/things coming off the block!
The interior is a mixed bag. It has real rubber/vinyl seats but the really bad wood returns, and in force.
Only the front 2 doors and the hood open, underwhelming as far as features go.
The steering wheels is pretty good, however.
For me the best bit is the real working suspension, with a solid rear axle.
On ebay these go for about $25 shipped, so for me it's a deal. Should you get one? I think so. It's quite unique and is pretty good over all.