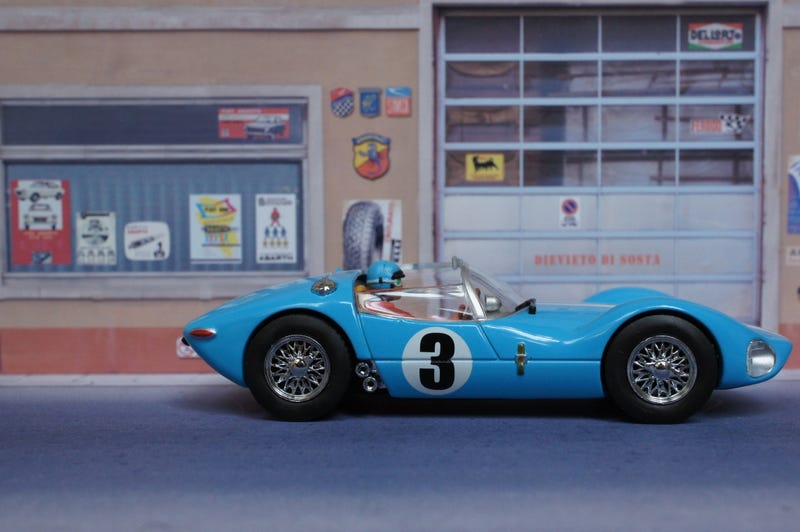 As I promised last Tuesday this will be my last Le Mans-related post for a while. And I'm not sure if many of the non-EU residents will know this one as it is merely a fictional car. By one of my all-time favorite cartoonists: Jean Graton.
Jean Who? Jean Graton. Creator of the, in Europe (mainly France/Belgium), immense popular character 'Michel Vaillant'. And normally I don't have anything with fictional cars but the way Graton blended his Vaillantes (the car-brand is called 'Vaillante') in 60's and 70's mainly European streetscapes and have their racecars compete with Ferraris, Porsches and other epic racers triggered my fantasies as a kid pretty good.

And some time ago already, Altaya came up with a series of '1/43s' about Michel Vaillant. So lots of Vaillantes, but also other brands, mainly from their nemesis, 'Leader'. And the car you see in this post is the 'Le Mans', from 1961.
It appeared in Michel Vaillant's 5th episode: 'Le 13 est au départ'. And the car was supposed to compete in... Well Le Mans obviously? It is supposed to have a 3.000 cc engine but I cannot find more specifications in the comic that quickly.
Because that's what was so great about these comics: the fact it was well researched and detailed. If Michel went to race at a certain track, a layout of the circuit was added. If it competed against a Porsche 550 some specifications/(dis-)advantages were mentioned, sometimes even explained.
And the fact this series continued until, like today, gives a great overview of automotive development. There even was a movie made and both Hommel (a small French sportscar-brand) and Seat have used the 'Vaillante'-name and logo in their line-up.
This Le Mans '61 was the first of the Altaya-series and is the one easiest obtainable. And as you see I took it to the track. How could I not with even a driver behind the steering wheel. And yes, the wheels rolled nicely so it 'panned' pretty good!
And my favorite:
Using Tinfoil's reversed panning would get you this:
So, what's easy 'obtainable'? As it was the first in it's series a huge amount of these were produced. If you leave out shipping, these still can be found for something between 5 and 10 euros in France. Mint & Boxed. If I look what the Tin Tin-cars go for nowadays and look at the quality of these it's a steal.
And this one is obviously from the golden era of motorsports. Just look at all the safety-features. No seatbelts. The top of the head comfortably positioned just over the roof-line. And that open glass/roof construction was, of course, to get in the car as quickly as possible because in those days the start was still a 'Le Mans' style start: run to the car, jump in, start car and take off.
I would not even know why they bothered to mount a passenger seat as the co-driver would have the most uncomfortable seating-position since the invention of the 'Scavenger's daughter' with that head turned 90 degrees downwards to the right.
Just imagine, as a die-cast company, how you could even develop such a model when there's only some drawings of a comic at hand? Must be hard, so I think Altaya did an awesome job. And I've got yet to find a lot of other ones from this series, just the later in the series you get, the more expensive they are. The Vaillantes that are more rare go for over 40 euros easily. And with over 50 available a complete collection will prove to be expensive.
And the details are great, it's tires even have an old-school profile on them. I just wonder why Graton only mounted one wiper: I can imagine in cornering it could be nice to actually see where you're going.
Enfin, c'est ca. I'm not sure the Vaillantes were exported to the US (in the comics they were, there even was some sort of cooperation with Ford but I mean the comics/Altayas themselves) but one is being shipped over to Springfield, VA, USA as we speak! So: Bon week-end!