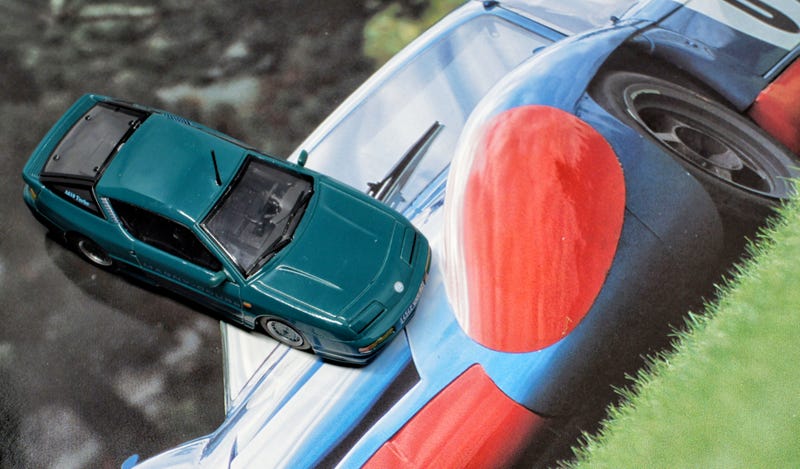 During my stay in Normandy I found time to drive over to Bretagne and visit the best French car museum to me yet, the Manoir de l'Automobile. Housing the vast collection of Michel Hommell.
And I don't believe I've ever seen such a huge amount of Hommells. But next to the Hommells, Michel apparently loves the brand from Normandy based neighbor as well: Alpine. From an A106 to a GTA. I did miss the A610 though, reason to display one here on LaLD!
And although the A610 has quite the resemblance of the GTA no body panels are shared: just the windows are the same actually. The rest of the car (chassis/mechanicals) was nothing more than an updated GTA though.
This green one was a Magny-Cours edition. Introduced in June 1992 and named after the circuit located in central France, near the towns of Magny-Cours and Nevers, approximately 250 kms south of Paris. This for the fact that Renault had won the 1991 race there with Nigel Mansel behind the wheel of the Williams FW14 housing Renault's RS3 3.5 V10 engine.
Colors were inspired by the corporate identity of the main sponsor of the Magny-Cours Grand Prix back then: Rhône-Poulenc. A French (of course!) chemical company.
Nothing was done to it's engine, it was just looks both in- and outside. Next to the color of the body the wheels got the same Pearlescent green treatment and a huge Magny-Cours vinyl was placed on the doors. On the inside it was all leather, a massive audio system with a CD player and a plaquette stating it's production number.

As it was a VERY limited edition with only 31 produced. And it would prove to be the last limited edition of the last Alpine in quite some time.
The model is a 1/43 by Eligor. Just like the red A310 I showed very recently.
Compared to the 1:1 the wheels are way too small (what is that, 13 inch?), the rear window doesn't really seem to fit decently and the antenna seems to be pointing too upright. It definitely is a cheaper cast, this Eligor.
And I never was a real fan of the A610 in the first place, I prefer the clean looks of the nose of the GTA any way. So better just dim those lights.
And that's it for this week's French Friday, maybe I'll show an Otto 1/18 next week if I feel like it!

Bon Week-End!