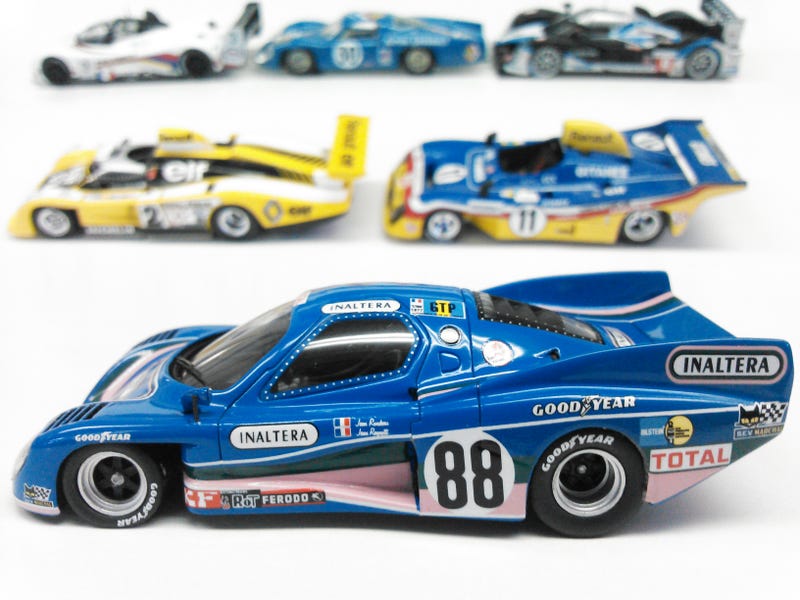 Today... man, I can't even speak, I'm so excited for tomorrow morning. Today is a very special French Friday, because tomorrow is the most important motor race in the world, the 24 Heures du Mans. In light of this, I'm showing a few cars to honor that great country and its great race, while featuring one in particular. First, some gratuitous Frenchiness.

Kinja may decide to display this upright, it may not
Now the featured machine, one I only recently learned about from our own Jobjoris and was fortunate to stumble upon a model of, because it's a beautiful car with an interesting history. Not only that, but it finished 4th overall and first in class at Le Mans in 1977 (as well as 1st in class in '76), and spawned a subsequent Le Mans winner. This is the Inaltera LM in 1977 Le Mans trim, perhaps the only racing car named after a paper company.

The Inaltera was the brainchild of Jean Rondeau, and was concocted to fill a void left in the wake of Matra's departure after its three Le Mans wins from '72-'74. He designed the car to the then-new Group 6 GTP regulations, a very slippery closed coupe to be powered by a tuned version of the famous 2.7L "PRV" V6 road car engine. But the PRV, while ubiquitous, is not very good at making power without atmospheric assistance, which in the 1970s would have rendered it a hand grenade. Another problem is that it would face the evergreen Cosworth DFV in competition, which was proven and made much more power. So the difficult decision was made to forego the PRV for... a DFV. One acronym for another, and sponsorship lost because the car was no longer the pride of France, but had the heart of a traitor.
Because there was another French GTP program competing for resources, that of Gerard Welter (later of WM-Peugeot fame), Rondeau was forced to look in unique places for sponsorship. He found his way to paper company Inaltera, whose name thus graced the car and who developed its colorful livery. In 1976, the local TV affiliate, angered at the car's British heart, directed its broadcasters not to mention the sponsor. Nonetheless, the car finished a respectable 8th overall and 1st in GTP in that running, at the hands of Henri Pescarolo and Jean-Pierre Beltoise.
As mentioned above, this car is the 1977 Le Mans machine, driven by Jean Rondeau himself and Jean Ragnotti. Ragnotti is one of the very few drivers to find success in sports cars and rallying, where he was a heavy hitter in the Group B era for Renault.
This car, chassis #001 of three built, finished 4th overall and 1st in GTP, 27 laps behind the wounded winner, a Porsche 936. The Inaltera was in fact on the same lap as the 3rd place car, a Porsche 935, a car just starting its illustrious career. Both the 2nd place Mirage -Renault and 3rd place 935 would foreshadow winners in coming years.
You may have noticed this car's shape is outwardly identical to that of the Rondeau M379 which won the 1980 event. No surprise here, as that is what it became (via the M378) after Inaltera pulled its patronage following the 1977 season.
Quite a tidy design, very aerodynamic and unadorned, a miniature version of the Group C prototypes to come.
I love the car's "hips," the way it tapers so gradually to that big, bodacious tail, seemingly gaining another 50% in width from front to back. That shape, incidentally, was partially dictated by the 13" front wheels, the maximum permitted diameter. It's not a PC analogy to make, but it's like a well put together woman. Hard not to love a shape like that.

The colors, a great match of traditional French racing blue and 70's disco, fit the lines well.
With its successor, the M379, on my 1980 Le Mans yearbook. Which I can't read, because it's in French, and this is 'Murica, dangit. Oddly enough, I found it in a tiny bookshop in rural New Zealand of all places, when I could not have been further from looking for car stuff. It happens to be one of the years my shop owner here crew chiefed a 935 at Le Mans for Dick Barbour.
This model is by Bizarre, my first by the brand, and I couldn't be happier. I stole it as part of a 4-car haul from the same seller, this and three Sparks. $15.50, in the box!! In my opinion, it easily rivals Sparks in quality.
And now, with some period-correct friends which we'll see in future French Fridays.
Have a great weekend, LALD, and enjoy Le Mans, wherever you may be! I'll be glued to the race as much as humanly possible, maybe organizing my 1/64s. I'm looking forward to whatever you all share here in the meantime!
Sources: Ultimatecarpage, Wikipedia, Racingsportscars.com, personal library