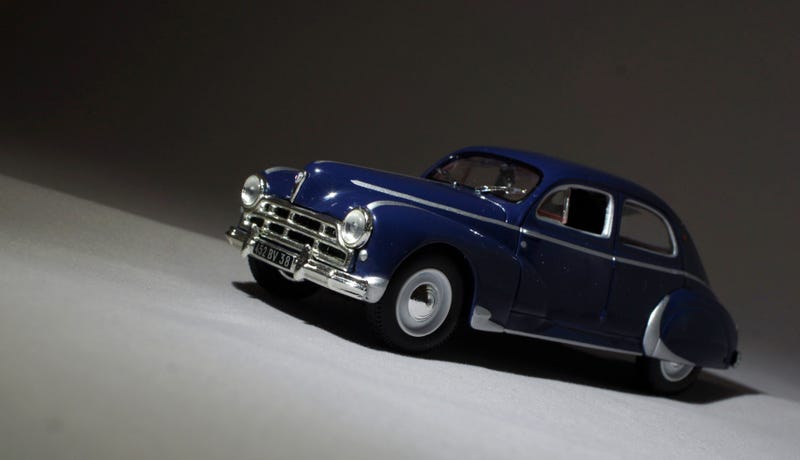 Wait, what's that, another Peugeot 203? Well sort of. It's even built at Peugeot's Sochaux factory. But officially it's a Darl'Mat Peugeot 203. A creation of Emile Darl'mat, a Parisian Peugeot dealer which created all kinds of specials based on Peugeot mechanicals.

Best known, but I'd still be surprised if many of you know Darl'Mat, are the sportscars in the '30's that competed at Le Mans. In the '37 and '38 edition pretty successfu actually. 2nd in the 2.0 (up to 2000cc) class in the first, winner in that second race. And as the Darl'Mats were not that expensive they were known as voitures de sport du pauvre. Sportscars for the poor.
Another thing Darl'Mat is known for was his "système Eclipse". If you think Peugeot and Mercedes-Benz were innovative with their retractable hardtops on the 206CC and SLK, think again. This is definitely pre-war baby:
And then... WWII came along and all was paused for a while. And after WWII Darl'Mat didn't only built sportscars but also some sporty sedans. And that's the topic I'm covering today: The Peugeot 203 Darl'Mat Berline.

Totally new designed bodies were more difficult though as Peugeot started using monocoques instead of bodies on frames. So it mainly was small design adjustments (chopped roof, lowered bonnet, rear wheels covered) and mechanical updates that created La Voiture Sport Confortable, the official slogan Darl'Mat used for this product.
A redesigned cylinderhead, an added Solex carburettor and an exhaust by Nardi pushed power from 42 to 50 hp. And the top speed from 115 to 130 km/h. Later on, in 1952, Darl'Mat found another 10 hp and the top speed got to a very respectable 160 km/h.
Some of the Darl'Mats 203 Berline even got Constantin Superchargers. Or an electromagnetic Cotal gearbox. And after the war lots of aluminum was readily available so Emile used it a lot on his post-war cars. For the grille, bumpers and all kinds of (trim-) accessories.
All this came at a cost of course. For the price of one Peugeot 203 Darl'Mat Berline you could easily get two "mainline" 203's. So it didn't really was a bestseller. From 1949 to 1954 only 120 units were produced. For comparison: it is said Darl'Mats 203 convertibles, which were way less practical, easily sold 150 units.
Nowadays only 12 of these Berlines are known to have survived so it is pretty rare. And it was Darl'Mat's last attempt of creating his own car. After this one he started doing what he started with in the first place: Distributing Peugeots.
Not that rare is this model of it, a Norev 1/43. Not much wrong with it, especially if you keep in mind I got this one for only $10. The trim piece on the side of the car is painted and a bit too thick for my liking but overall: properly executed cast.
And although pretty obscure, there's still another Norev 203 I'm looking for, the Paris-Le Cap-Paris wagon.
C'est ça! This one is from an era I have little casts of, except for some Le Mans racers. Seems I'm starting to grow more interest in it though so...
Bon Week-End!