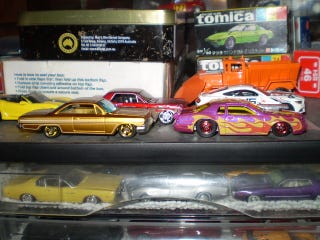 Some recent swap meet finds, the front two.
One of my first posts my 3 Tomica RX7s.
My New Zealand exclusive Siku Dodge Charger Police ( the kiwi Police actually drive Aussie Holdens) I like this casting I have the standard red one, the fire chief, US Police and the Taxi version.
My first Hotwheels 1974 or was it 75 Alive 55 in enamel green paid .39cents for it new it was over 20 years later before I brought 2 more HWs and now at over 2000 (actually stopped counting about 5 years ago lol) they form my biggest part of my collection.
My Matchbox newer castings mainly consist of colour variations of real cars, not a fan of some of the fantasy trucks they do.
Some more of my F series Tomicas, about 75 percent of these were brought new.
And lastly 2 of about 25 Maisto Truck and car combos I currently own, the answer is do I like small diecast Hell yes till the day I die ;-0) Yours In Small Diecast Dave H NZ.