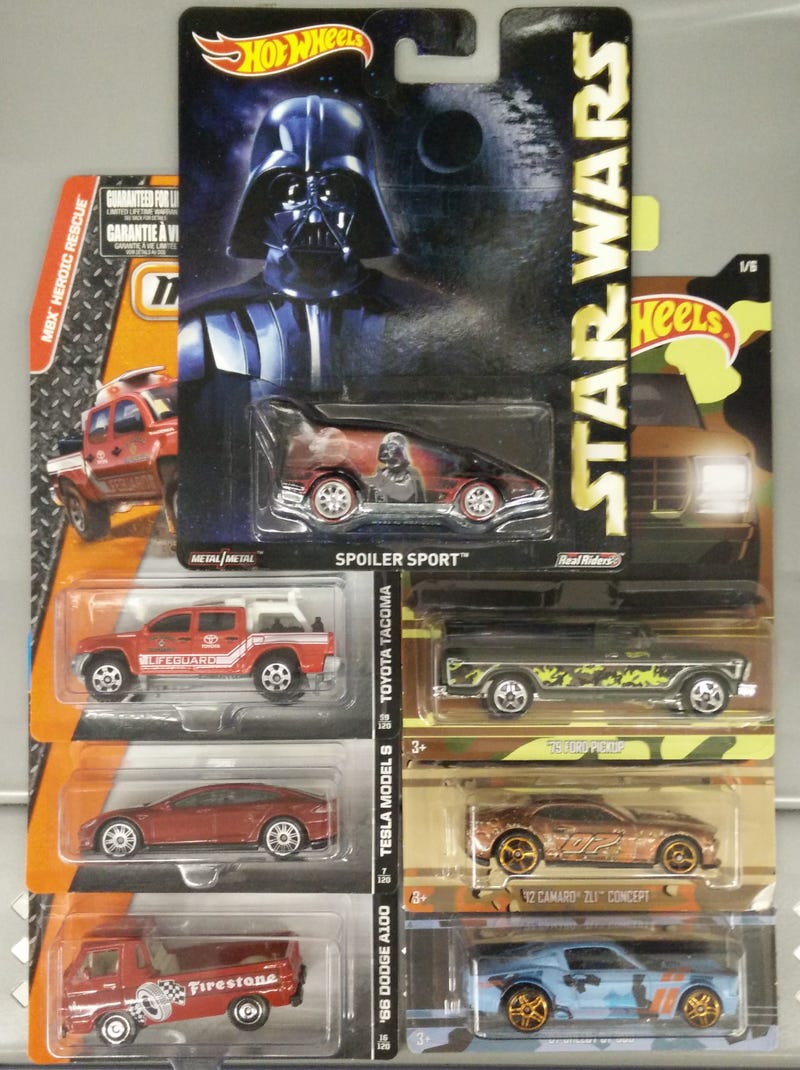 ...with the hauling.

So I felt really bad yesterday about not picking up some of the Camouflage series. They really do have nice decos and I really liked the Ford truck. Therefore, I went back to Walmart to pick them up this noon and surprise, surprise! They restocked with some other goodies! New-ish Matchbox and the Star Wars Real Riders.
First, a picture of the Camouflage series because I failed to take a picture yesterday. Needed to redeem myself...
Just wanted to give you guys a heads-up on what to expect, since I don't recall seeing any posts about it here. As you can see, great card art on all of these for those who keep the packaging. Not me, though, so here are some DLM photos of today's haul.
I'll start off with the Matchbox. I finally found the Tesla Model S, and it lives up to its hype. I should also mention the HW dump bin had the red HW Model S as well. But who wants that when you can have this?
The Dodge A100 pickup. A couple years ago, I actually found the debut release of this in that light aqua color. I passed on it because I wasn't into these types of vehicles. It's too bad because that was the better colorway IMO. Now that my collecting habits have changed, I had to pick this one up.
Toyota Tacoma. I really do wish there wasn't all that junk in the back, but a nice model nonetheless. Also kind of wish they chose a color other than red, because the first release was red as well.
Onto the Hot Wheels. First, the Camaro ZL1.
I'm a fan of the ZL1, and I have about five other HW ZL1's in my collection. This one will fit in rather nicely.
'67 Shelby GT500. Eleanor. Love the colors on this one.
1979 Ford F-150. This might be the most popular model from the series because everyone loves trucks. I don't recall seeing this model in the mainline for the past few years, but I may be wrong. Great model, and the paint seems to be a flat army green color.
Finally, the Darth Vader car. Huge Star Wars fan here, so I had to get at least one of these. I would have liked to get all of the other cars, but they're a tough sell at $4.47 each. For that price, I'd rather walk over to the M2 and Auto World section and pick something there. As a result, I bought just one, and it definitely had to be Darth Vader.
Thanks for looking, and I hope you guys find some new product!