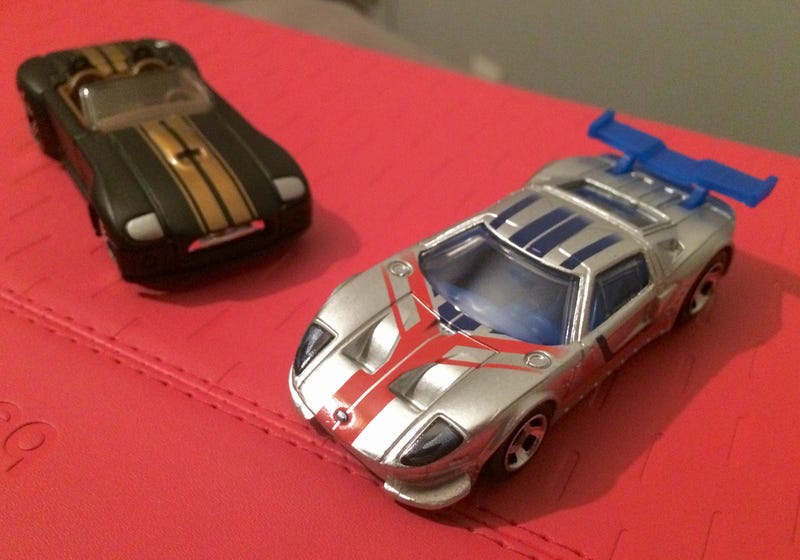 ... who am I kidding, I NEVER buy Fords. Until yesterday.
I have a special place in my heart for the Shelby Cobra and the Daytona Coupe. They are simply gorgeous and were tenacious racing machines to boot. The Ford GT was the natural progression from Shelby's earlier work, even if it was Ford's failings that brought Shelby in.
Unfortunately I didn't get back into HW collecting until recently so I missed out on the Cool Classics Daytona from a couple years ago (they're pretty cheap on eBay, just haven't pulled the trigger yet). I'm also fairly certain I had a nice Cobra and Daytona back home but they weren't in the case I got from home in June.
After months of seeing this Ford GT warm the pegs at Walmart, I finally caved today. The GT usually doesn't really appeal to me unless its in Gulf colors but I do like this particular cast. The low ride height and the detailed aero bits make it what the Corvette C7.R cast should have been. Wheels aren't great but I can live with them.
Our Walmart has also had three boxes of Mystery Cars that look like they haven't been touched in months. I already got the tooned Vette in an HWEP a couple months ago so I haven't payed much attention to them but I got it into my head that I needed to find Ford Shelby Cobra Concept.
I'll be honest, I've never liked the concept. Even though the original was basically an A/C body, the Cobra was a stunning beast. Everything about it just worked.

I've never understood the 2004 concept. It's a box with wheels that looks only marginally inspired by the original. It's everything bad about trying to revitalize a classic design (strangely enough, Ford nailed it with the 2002 GT).
As far as being a 1:64 representation of a mediocre design, this cast is pretty good. The curves from the headlights back seem a bit less curvy (a lot less) than I think they should be. The gold stripes on matte black looks really nice and is a nice throwback to a common Shelby/Ford livery. The COBRA across the rear is oh so close to being perfectly placed.
What really got me thinking about getting the Cobra concept was seeing a Ford Shelby GR-1 Concept on the pegs at Target. I really wish I had grabbed it and I don't know why I didn't. I don't think that's a particularly good cast compared to the 1:1 and I'm not wild about the paint/tampos it had but I still wouldn't mind having it.
It's amazing how much better Ford did with the GR-1 than they did with the Cobra, which is made even more interesting by the fact that underneath the body they're practically the same car.
Maybe I need to make another Target run today and try to get that GR-1. Getting a classic Cobra and Daytona is on my radar now too.