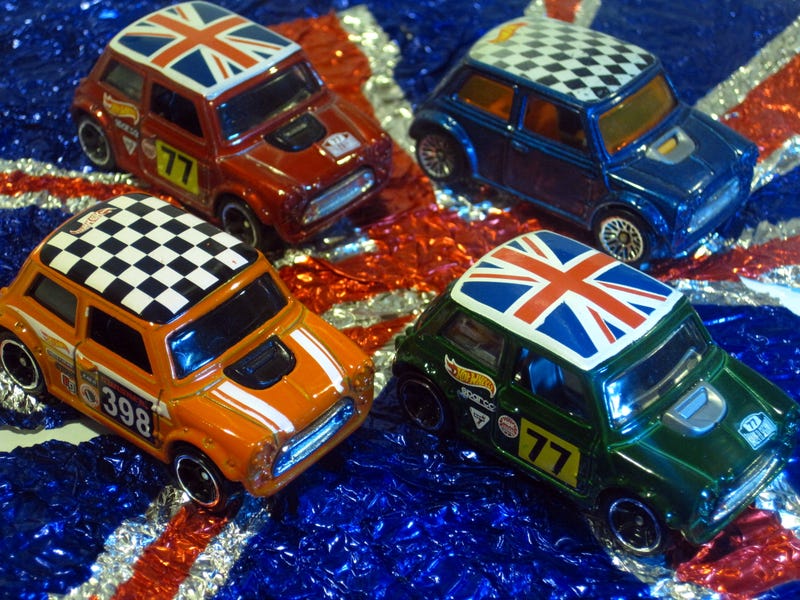 I'm celebrating National Siblings Day with four Hot Wheels Morris Minis!
The Morris Mini is one of my favourite "current" Hot Wheels castings that still shows up in the mainlines, not only because it's a classic and iconic British compact car but also because it's one of the shrinking number of mainline (regular-priced blue card) Hot Wheels cars that are still made with both a diecast metal body and a diecast metal chassis (aside from a handful of times when the body was plastic, which makes sense when it's a see-through X-Raycers car or a Color Shifter, but is disappointing when it's an opaque mainline). It also still has the feature where there's the switch on the bottom of the car that lets you remove the body from the chassis.
The two #77 Union Jack flag cars were 2014 mainlines and are quite easily my favourite examples of the Morris Mini casting that I have (and no, I don't have either the 2002 or the 2005 Treasure Hunt versions) and also are my favourite Hot Wheels cars from last year's mainline series, for outstanding colour presentation, especially on the green one, the Union Jack in all its splendor, and licensed sponsor tampos like Sparco. (I've been wild for real world logos on Hot Wheels cars ever since I was a very small child.)
The orange chequered-top #398 car is a 2015 mainline, which have been very, very slow in arriving in Ottawa stores. I just bought it yesterday (Thursday April 9th) at a Toys R' Us store (Merivale Rd.) that had finally gotten some new Hot Wheels in after months of seeing the same cars that have been languishing on the pegs since at least Christmas.
The blue chequered-top car is a 2001 mainline that I found in a Value Village thrift store toy car grab bag a couple of months ago, and this version was only the second variation of this particular Mini casting that Hot Wheels made, after the 2000 "First Edition" in yellow, which is a car I'd love to find as I still need both yellow and purple to make a full Hot Wheels Morris Mini rainbow.
I do have a bunch of other variations of the Hot Wheels Morris Mini casting, including all three of the Real Rider'ed Retro Entertainment Italian Job cars from 2013, but I thought having two pairs of cars with similar roofs would fit the theme of "siblings" the best.