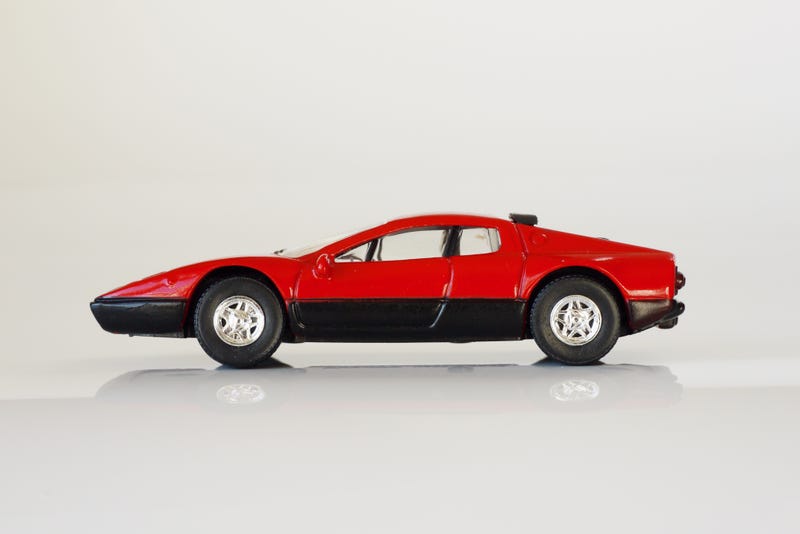 The first "Boxer" was the 365 GT4 BB shown at the 1971 Turin Motor Show. Designed to rival the Lamborghini Miura and the newly developed Lamborghini Countach, it was finally released for sale in 1973 at the Paris Motor Show. 387 were built, of which 88 were right-hand drive (of which 58 for the UK market), making it the rarest of all Berlinetta Boxers. The Pininfarina-designed body followed the P6 show car with popup headlights.
Though it shared its numerical designation with the Daytona, the Boxer was radically different. It was a mid-engined car like the Dino, and the now flat-12engine was mounted longitudinally rather than transversely (as it was mounted in the Dino; the Daytona was a conventional front-engine, longitudinal design). It has 380 hp (283 kW) which is also slightly higher than the Daytona.

The engine shared its internal dimensions with the V12 from the Daytona, but was spread out to 180° as on Ferrari's 1970 Formula One car and was mounted above a five-speed manual transmission. One major difference in this engine was its use of timing belts rather than chains. Although referred to as a Boxer, the 180° V12 was not a true boxer engine, but rather a flat engine.
Production of the BB was a major step for Enzo Ferrari. He felt that a mid-engined road car would be too difficult for his buyers to handle, and it took many years for his engineers to convince him to adopt the layout. This attitude began to change as the marque lost its racing dominance in the late 1950s to mid-engined competitors.The mid-engined 6- and 8-cylinder Dino racing cars were the result, and Ferrari later allowed for the production Dinoroad cars to use the layout as well. The company also moved its V12 engines to the rear with its P and LM racing cars, but the Daytona was launched with its engine in front. It was not until 1970 that a mid-engined 12-cylinder road car would appear.
Today we have a series 1 365GT4 BB, now series one Ferraris are not Kyoshos finest by any means. They are ill designed and very cheap looking. The proportions are off and the wheels are well wobbly and cheap in design. The red BB however does have decent paint graphics and relevant details. If you are a diehard Kyosho collector then it's worth having but otherwise just stick with the later series 512 BB or BBI which are amazing models. This is however Kyoshos only 365GT4 BB so it was worth it for me to have.
Info from wiki
Thanks for looking
P.S.