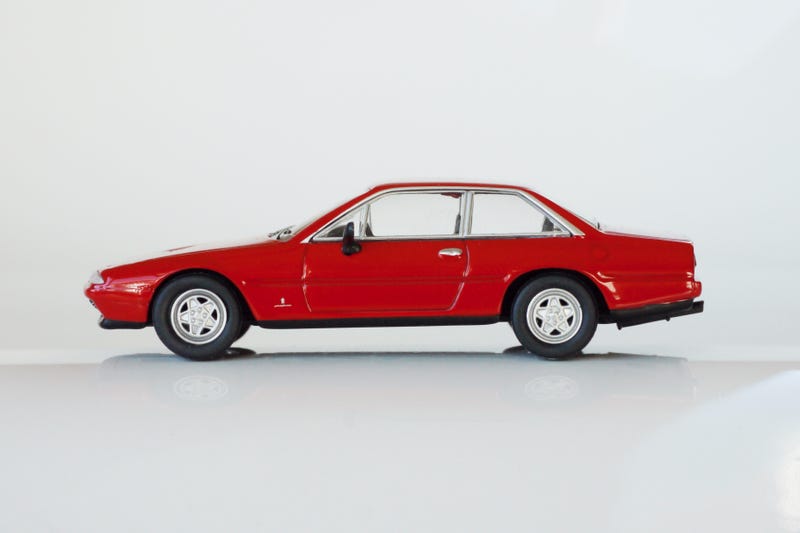 The Ferrari 365 GT4 2+2, Ferrari 400 and Ferrari 412 (Tipo F101) are front-enginedV12 2+2 grand tourers made by Italianmanufacturer Ferrari between 1972 and 1989. The three cars are closely related, using the same body, chassis and engine evolved over time. After Ferrari's custom their numeric names refer to the engines' single cylinder displacement expressed in cubic centimetres, and therefore changed with each update to reflect the increasing displacement. The 365 GT4 2+2 was introduced in 1972 to replace the 365 GTC/4. It then evolved into the 400, that in Automatic guise was the first Ferrari equipped with an automatic transmission. In 1979 the 400 was replaced by the fuel injected 400 i. Finally, the improved 412 was introduced in 1985 and phased out in 1989, bringing to an end Ferrari's longest ever production series.
Although the incorporation of an automatic transmission and U.S. emissions compliance, indicate it may have been designed for the American market, no version of these grand tourers was ever officially imported to the USA. Despite this, many have been brought to America as grey imports.
In 1985 further improvements were made to the series, with the launch of the Ferrari 412(chassis Tipo F 101 EL). The engine was bored 1 mm, for an increase in displacement to 5 L (305.1 cu in) - hence the name change to 412, or the single cylinder displacement in cubic centimetres. Both the manual and automatic transmissions were retained, but exterior badging didn't denote anymore the transmission type fitted. Bosch ABS was offered, a first for Ferrari. The body was altered, with a raised rear deck granting more luggage space. Pininfarina made many subtle tweaks to modernize the exterior. The bumpers were body-coloured; at the front there was a deeper spoiler, at the rear a black valence incorporated the foglamps and exhaust pipes. Side window trim was changed from chrome to black. The flat-faced wheels were new and fitted with TRXtires.
A total of 576 examples were made. Production ended in 1989 without a direct successor being immediately launched; the mid-engined Mondial remained the only Ferrari offering 2+2 seating. In 1992, after a three year hiatus, the classic front-engine V12 2+2 grand tourer returned with the 456.
This car was a first of sorts for Ferrari well it had a automatic transmission. It's a rather sedate wedge design. I think Kyosho did a great job again paint decals proportions are all there. I don't have much bad to say other than a slight lean to the left check the rear end shot, I think my photo surface leans to the left a bit so that does not help.
Info from wiki
Thanks for looking
P.S.