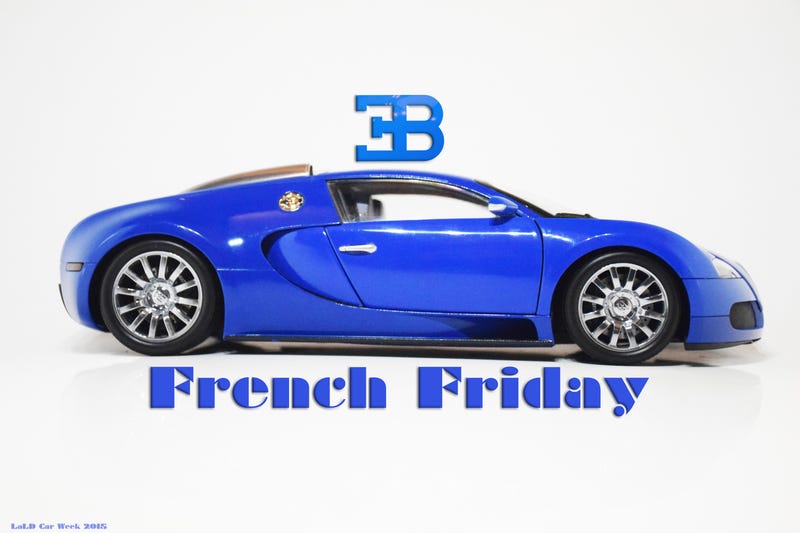 So this is the only French car in my collection that Sn210 hasn't covered today, which is perfect because I wouldn't bite his rhyme, and I also have no idea what to do with this model. We will get to that later.

Without further hesitation please allow me to present a 1/18 Minichamps Bugatti Veyron 16.4 for today's Car Week theme submission!
Minichamps is a hit or miss company in my experience, you either get slightly more than you pay for, or vaguely less. This particular Veyron is in the realm of the former, and it feels throughout as though you are getting more than what you (hopefully) paid for it, admittedly I got this one second-hand and a bit dirty for $50, but even at the asking of around $125 it is a very, very detailed model of this, the absolute fastest Audi TT.
Just kidding of course, we all know the Veyron is a monster in a sheeps street tires! This double blue example I have here today has excellent fit and finish of those complex curves and tiny chromed parts, which are very subtle on both the 1:1 and 1:18 cars. sorry androoo. The wing is extendable by means of a spring-loaded switch in the rear diffuser, and it pops up with a satisfying feeling of solidity and quality from the model. The wing even sits flat or in full brake mode shown above, and moves on articulated pistons that mean it probably wont snap off or get stuck halfway anytime soon. Which is nice to know!
Look at the litte details around that central (of three) exhaust pipes, and see how flush that wing sits? That's pretty decent right there!
Couple more wing shots. Cuz it's just too cool.

As you may have noticed by now, the engine in this model is very realistic to the 1:1 car. Meaning, of course, that you dont get to see much other than covers and two intakes.
Very cool intakes though, and the detail and finishwork on these components is up to par with the rest of the model in every way, so maybe the fault lies with Bugatti and the rest at Molsheim for making an 8 liter, 16 cylinder, quad turbo, W formation, 254mph engine that looks like a bread maker. Fair enough, Minichamps did okay.
Simple though they may be, the filler caps on each side are my favorite little details, they're simple in real life and they're simple here. Gorgeous in both variations. The castings and molds for these components and others of similar size throughout the car seem to be very on-point, everything, again, fits like a glove and the attention to details feels very nice in the hand.
The trunk (frunk?) opens on articulated hinges similar to the rear wing, and the space within is covered with the usual faux-carpet, again a bit dirty on this example (apologies all around!). The headlights are something like seven or eight pieces each, complete with chrome headlight washers, and they look every bit the part of the real ones, same thing with the side indicators and rear lights by the way. Everything just fits into its place, and that's a little VW/Audi influence on Minichamps if anything... You even get a little sticker on the trunk (frunk) sill with some writing on it!

The wheels are possibly the only detail I don't like the quality of, I think the chrome looks a bit too thick, and the detail of that massive central nut and logo is lost to that thickness. The depth of the spokes is great, and maybe I'm nitpicking. Who knows, but the brakes behind the wheels look perfect. I'd love to see the new Veyron SS from Minichamps, to see how these two particular components stack up to this "regular" Veyron (also the engine cover lifts off, and that'd be pretty cool considering the engine. Do we need to cover that again? No? cool!)
The interior is excellent, if a little grey for my own tastes, and features the usual plethora of carpet, seatbelts, badges and gauges you would expect of this detail level and price point. I love the knurled-look dash, which looks every bit the part with its clock, starter button and large trim pieces top-to-bottom.

Lets not forget the steering wheel and shifter, they seem to be very good moulds and I must reiterate once again how much I want to see the SuperSport model, if only to see all this in my favorite color. Which is not-grey.

I seem to have a lot of personal low-points with this model, and thats true, but these are personal issues, I LOVE the two shades of Bugatti blue on this car, yet the grey and chrome wheels kind of turn me off of it. This isn't how I would spec my real Bugatti Veyron for that money (mine would look a bit more like a Koenigsegg CCX actually. in Black.)
This brings me to my alterior motive for submitting this car to todays category, what should I do with it? Does it need an interior color change? LED tuning? Sell it and start a-new? I know you guys know where the reply button is, let me know!!
Ohh that blue... two shades of Bleu de France from the various Bugatti racing cars of the past.
blue....

Okay seriously, I'm done here for today :)