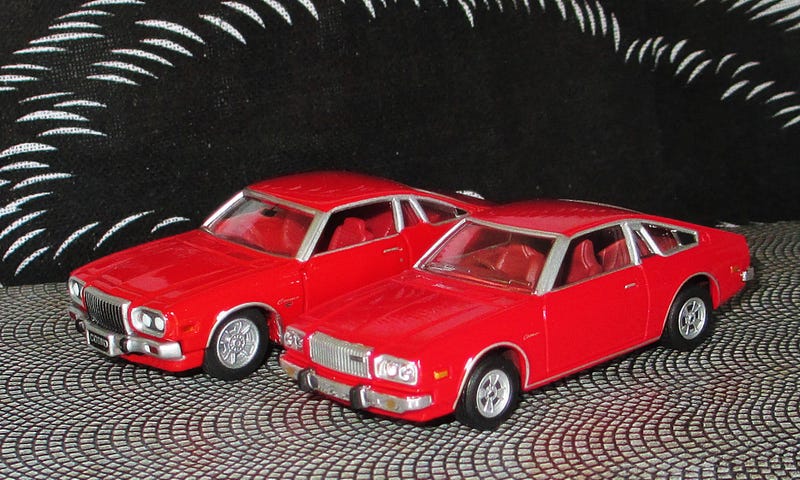 Welcome to this Easter Sun-day edition! And as it is a High Holiday, I decided to have a double feature. So today, there are not one but two 1975 Mazda Cosmo AP to consider. Or RX-5 - depending on where you live.
The second generation CD Cosmo app eared in 1975 and lasted until 1981. It was known as the Cosmo AP (Anti-Pollution) in Japan, and sold internationally as the Mazda RX-5.
Mazda America used the Mazda Cosmo name and offered it from 1976 through 1978, after which the Cosmo was replaced by the Mazda RX-7 as their rotary-powered sports coupe.
The CD Cosmo/RX-5 series was positioned as a personal luxury car, offered as a notchback coupe, and as a fastback as shown here, but neither body style found many international buyers. It was however an enormous success in Japan where over 55,000 were sold in the first year alone.
Due to its poor sales as an export the Series II version, built from 1979, was not exported and remained a Japanese domestic sale only. The Cosmo was Mazda's largest rotary-powered coupe, based on the LA series Mazda Luce floor pan and mechanics, but slightly heavier due to body design and more luxurious appointments, including a five-link rear suspension and rear disc brakes. It was available with the 12A and 13B engines.
These were the top of the line Mazda cars at the time - if you discount the short lived and ill conceived Mazda Road Pacer.
So that's it for the car - now about the models. What we have here are two 1/64s from roughly 10 years ago. The first one is the Tomica Limited #87 from 2007. Being a "Limited" (as opposed to a "Limited Vintage"), it is based on the original Cosmo AP casting from 1977.
As you can see, the "Limited" treatment included a lot more tampo detail and bespoke wheels, while leaving the original casting unchanged.
The other model is a Konami from 2008 - and obviously a far more modern casting. It shines with a more detailed interior, "glass" lights front and back and generally more modern detail. And - unusually - the Konami models also feature a decent suspension, something that is lacking from most modern 1/64s.
So you can take your pick between the vintage charm of the Tomica or the more modern thrills of the Konami. As for me, I want them both and then some. I just love the ornate baroque styling that Japanese cars of that era had.
And I have a particular soft spot for this Mazda model. Tomica made both the notchback and fastback, so I have those. And there are three variations of the regular fastback casting, yup, got them. And the "Limited" as you can see. And the Konami came in two colours. Yup, got those too.
Which just leaves me to wish you all a Happy Easter and I hope you enjoy the rest of the long weekend.