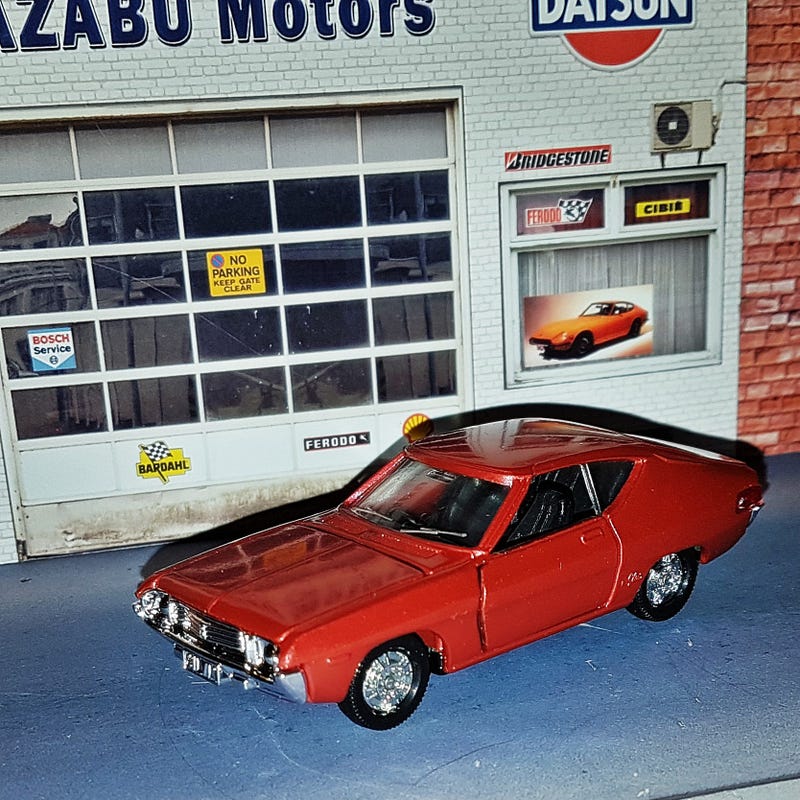 Tonight's feature car is the "S10" Silvia - or the "New Silvia" as it was officially called (and badged) in Japan. The first Nissan Silvia was a very expensive, essentially hand-built, low volume car made from 1965-1968. And Nissan waited until 1975 to launch another one.
This S10 Silvia was meant to tackle the very successful Toyota Celica. Nissan internally refer to it as a "secretary car for North America". Ouch! But the car hit its first hurdle when Yutaka Katayama - (Mr K) - the first president of Nissan USA - all out hated the car and didn't want to sell it on the NA market. He was all for sportier cars like the Z and the 510. But Nissan's new S10 platform had done away with any sporting pretensions, deleted the 510's independent rear suspension and gone back to the leaf springs. And Mr K was forced to sell it anyway.
The rather bulbous lines didn't help. In the North American market a version incorporating the larger-displacement 2.0 L L20B was offered as the 200B of the same series Bluebird and Skyline. This model in North America was affixed with the mandated 5 mph bumpers and badged as the Datsun 200SX.
The car's design was from Nissan's most baroque era - and I am guessing the odd appearance were a major factor in the disappointing sales. As far as I know, it was neither sold in Europe nor on the Australian/NZ markets - and I don't recall ever seeing one in the metal in my travels. Even Nissan's sales brochures seemed to favor the rear three-quarter views - perhaps the car's best angle.
It just seemed to try too hard in every way and ended up as a mess of clashing angles. Sales slow in both Japan and North America - and a complete re-design was due in 1979 - only four years later. The S110 Silvia was much better to look at - and sold accordingly.
The model you see here is a Tomica Dandy - fintail already had reviewed the regular Tomica here
and this Dandy even comes in the same (factory) color. It is essentially like a 1/43 version of a Tomica car. The same solid metal construction, supple suspension, snapping doors and finely cast-in details. It ads engine access and separate tail light pieces. It is however not from the 70s - but rather a 30th Anniversary re-issue from 2000. Still Made in Japan though, and of the same quality as any other Dandy.
I got this model for a measly JPY 1000 from a Japanese Yahoo auction - but in order to get my hands on it, I had to go through a buying service. That does add a bit of cost, but it was still far cheaper than anything I could find on ebay. And better still, I could buy another model from a different seller and combine the postage (plus a fee, of course) - but it all worked out very well in the end.
Great, so I found another way to spend money, as if I needed that...