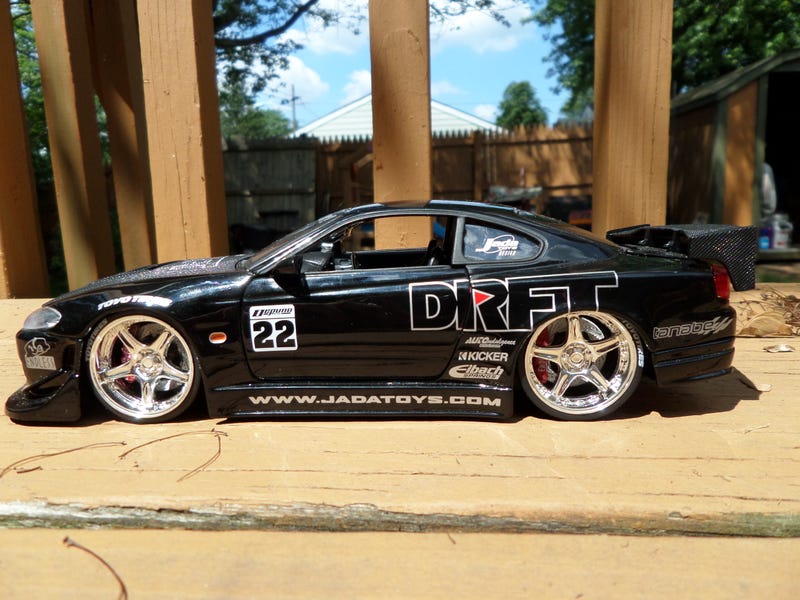 This is a "1/24"scale Jada Toys Nissan Silvia from their Import Tuner line of model cars. I put 1/24 in quotes as this model is actually bigger than most of my 1/24 scale models, I believe this to actually be a 1/25 scale. But oh well, Jada isn't known for being precise with scales.
Design & Accuracy: 8/10
I can't give this model a perfect score because it has a wild aftermarket bodykit (as all models in this series had) with widebody fenders. The greenhouse looks proper as do the headlights. The taillights have this weird yellow/orange sticker that's supposed to be a blinker but looks silly. You'll see that in a later shot. I happen to love the bodykit on this car though, it works and makes it look quite JDM. More JDM than Fast and Furious imo.
Fit & Finish: 7.5/10
This is a tough one because I don't have much experience with JADA 1/24 scales and don't know if the issues are just my model or if it's problem with all models. I got mine loose from a fleamarket. It's in pretty good shape, a little dusty but not tooo bad. It's missing the reflective sticker from one mirror, the sticker on one of the TV screens is peeling off and the hood is ever so slightly out of line so it doesn't quite close fully. It's not noticeable but I noticed it. I suspect those are just issues with my model and it's otherwise surprisingly well built. The axles are a bit too long though so there is some play in the wheels.
Features: 8/10
The hood, doors and trunk open and are very wheels detailed. The carbon fiber hood and spoiler are textured. I do wish this model had wheels that steered but oh well, the opening trunk sort of makes up for that.
(The wing looks crooked in this pic but it's really not, I must've held the camera at a odd angle)
Value:6/10
I bought this for 20 dollars. Ebay has the S15 silvia 70-100 dollars. Even at 70 bucks though, this is a really cool model to have. Plus you'd have an unopened version. If you can find it for less, do it. Doitdoitdoit.
Rarity: 7/10
I recall the Import Tuner line not being very popular when it came out, because the DUB City series was bigger. There are 4 S15s on the bay now. 2 black ones like this for 70-100 bucks and 2 yellow ones for almost 200. This model is not going to be easy to come by on the cheap.
Overall: 36/50 or 72/100
That seems like a low score but if you were to pay the 70-100 dollar price, you're nearing 1/18 scale territory. For a model that isn't really properly scaled. It's an awesome model though and I'm very happy with mine. Of course I'm also happy to have gotten real lucky at a flea market.
Should you buy one? If you find for even 50 bucks, yes. If you're looking at the yellow version for 175, no. I don't believe this model is really even worth 100 bucks but it's rare and if that's what the market says it's worth than so be it.