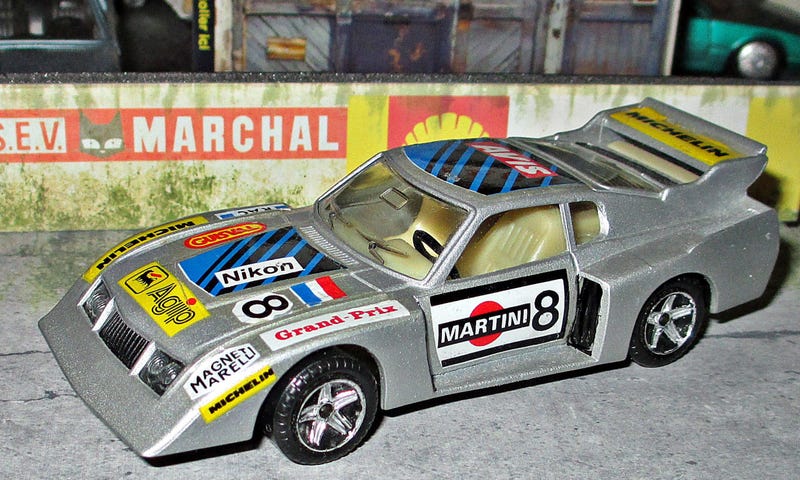 Today's entry is a bit of an oddity in more than one way. The Schnitzer-Toyota Celica Turbo was an obscure race car to begin with - generally little noticed in its day. It came about because Schnitzer needed a new car to compete against the new and all conquering Porsche Turbos in the Deutsche Renn Meisterschaft - the German Touring Car Championships of its day. A light weight, turbo charged Celica seemed like a good idea at the time.
Schnitzer were until then associated with BMWs - but there was nothing at their disposal to beat the Porsches. The car used a 18R type G engine bored out to two liters, mated to a custom built 16V head. A KKK turbo pushed the power up to an impressive 560 bhp.
The Celica debuted at Hockenheim on July 30th, 1977. Piloted by Harald Ertl, it qualified 13th, a horrible 25 seconds per lap slower than the fastest 935. Not a good start! To make matters worse, the car retired after only four laps. The car's second race at Zolder on August 14th 1977 showed a bit more promise: Ertl managed to quality 7th, only 5 seconds off the pole time. Unfortunately the car retired after only three laps.
Things started to look better after the Toyota's final DRM outing in 1977: at the Nurburgring on October 2nd it managed an impressive 4th place overall. In that 1977 season, the car was painted in blue and white - so the color on this model is all wrong.
It returned in 1978 in red and white Toyota livery, now driven by the famous Porsche racer, Rolf Stommelen. The best finish for the Schnitzer Celica was 8th place at Mainz-Finthen on June 18th, 1978. The rest of the season was pure misery, with the car retiring more often that not, with severe reliability issues.
Not a happy outcome then - and Toyota shipped the car to Japan after the 1978 season, and gave it to Dome, who pulled it apart and used the engine in their 1980 effort. But the engine problems remained the same, unfortunately.
This unlucky car then would have been quickly forgotten, had it not been for both Tamiya and Tomica. Tomica made a short-lived 1/64 model of it, both in the blue and red livery. But Tamiya made a large scale kit that proved to be extremely popular and can still be found today.
But the model here is not Japanese at all, but oddly enough a Guisval, Made in Spain in 1/43. I didn't even know this what out there until I spotted it for sale on ebay. What an strange choice for a Spanish company to make, given that Toyotas weren't even on sale in Spain until the 1980s. My best guess is that they wanted a licence-fee free model, as it was unlikely that anyone from Japan would know or care that they made this model.
The color and sponsorship decals are obviously all wrong, but the shape of the car is well captured. Did they get a Tamiya kit and scale it down? It's hard to imagine how they would have made it otherwise, given the lack of information about this car out there. Even today, there are not that many photos of it on the net. As I said, it's a bit of an oddball, but that's how I like them.