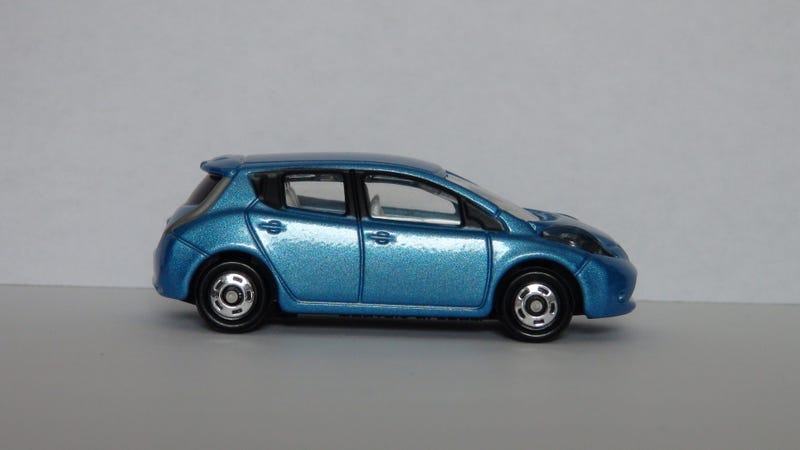 Here for Rising Sunday is Tomica's mainline Nissan Leaf.

The Nissan Leaf is currently the world's best selling pure-electric car (200,000+ units), having been sold since 2010 (2011 model year), and being a mainstream electric car around the price point of the average new car transaction value (which is, interestingly, $27,563 for Canada, and $33,560 for the U.S., both as of May 2015).

The Leaf uses an electric motor with the equivalent of about 110hp which is fed by a lithium-ion battery pack of 24 kilowatt-hours (2011-2015, 2016 base trim) or 30 kilowatt-hours (2016 upper trims) mounted below the seats. This provides a range of between 90-200 km depending on conditions and charge (i.e. full or not), as EVs are more susceptible to weather conditions than internal-combustion vehicles.
With each year or two, Nissan has introduced updates to increase efficiency, lower charging time, lower weight, and improve range.
The charger plugs into the nose of the 1:1 car. The headlights depicted here project upwards a bit more than they do on the real car.
This Tomica only features working suspension and has full glass.

I'm not quite sure why it has a painted rear window, which is usually used for models with opening rear hatches.

Like my other Tomicas purchased new, I bought it in Hong Kong about 5 years ago when I last visited, so it has the original packaging. Apparently, a red version was also offered at some point, probably as the initial release special colour, but blue is the main release color.
The scale is slightly small at a claimed 1:68.
Thanks for viewing!