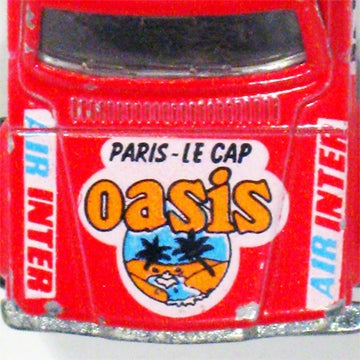 I had this dream last night...(Don't judge me until you read all of this.) I had a dream that I had found a Jeep at that flea market I discovered when my Dutch friends were visiting. It felt really real, while I was having the dream. When I woke up, I realized that there were several diecast I had found at the flea market, and I had lost track of them. One was this Majorette Jeep Cherokee with Paris-Le-Cap livery. Long story short, I found them in a bag under the front seat of my car...I need more dreams like this!
Nice played-with-ness, fairly good tampos, some silver loss on the tires, but I like it just fine as is.
Equally distributed patina...
Looking out over the working tailgate, is a black lab. And, behind him, is a doggie bed! Mattel didn't have all the Easter Eggs...
And, when the tailgate is lowered, the dog stays in his sitting up position... Because he's a good boy! Who's a good boy? You're the good boy! Aren't you? Yes you are! ommnn Yes you are!...
True 1:64 scale, No 236, no year given. I don't think I'll touch this one, as far as repainting or customizing is concerned. I think that'd be wrong. lol, we'll see...