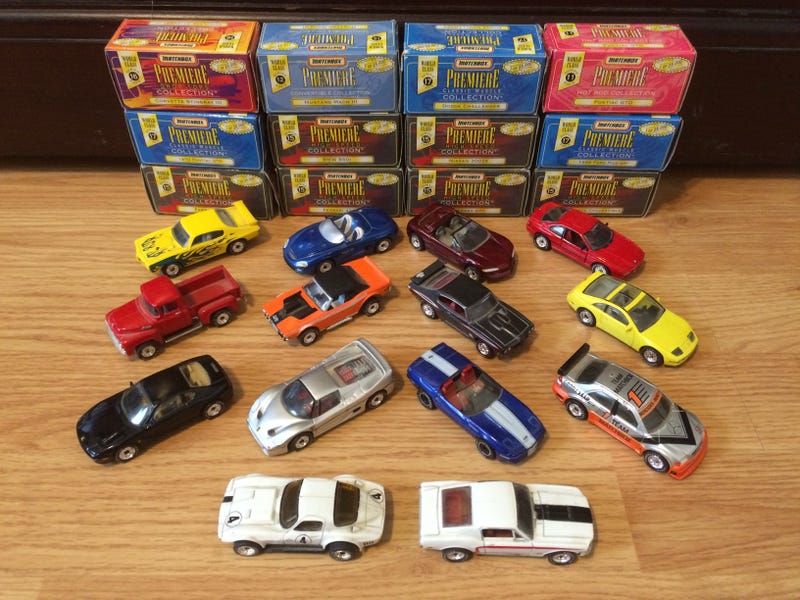 Hello LaLD, its been a while. Since the weather has changed, I have been stuck inside more. This means more time to write and post pictures. For today's post, I have some Matchbox Premiere cars.
I collected these cars as a kid in the 90's. I liked how the rubber wheels and extra painted details were a step up from normal 1/64 diecasts. They all came in those nifty boxes too. Quality does vary from car to car though. The base casting from which Matchbox worked from influenced a lot in the outcome of the Premiere treatment.
Matchbox had a good silver paint at their disposal and it really pops on these two.
These two luxo-coupes are relatively well detailed, and the BMW retains its open-able doors from its original casting.
Two Grand Sports together, however Matchbox took some liberties with the one on the right. The Corvette on the right is an '87 and the Grand Sport package did not return to the Corvette until 1996.
This one is very yellow. And doubles as a greenhouse. I like the detail on the taillights though.
Speaking of varying quality, check out the solid windshield on the Mach III.
Can't forget the muscle. The red Ford pickup might just be the best of my whole Matchbox collection.
Bonus car! This is from the Matchbox Gold Collection.
This Diablo comes in its own fancy box of fanciness.
The quality of this nice diecast is unfortunately brought down by its double wide front wheels. Why, Matchbox? At least throw some fender flares on it if you can't get the correct width wheels on.
Hope you enjoyed my post, its my first in quite a while. Good to see this wonderful site is thriving and well.