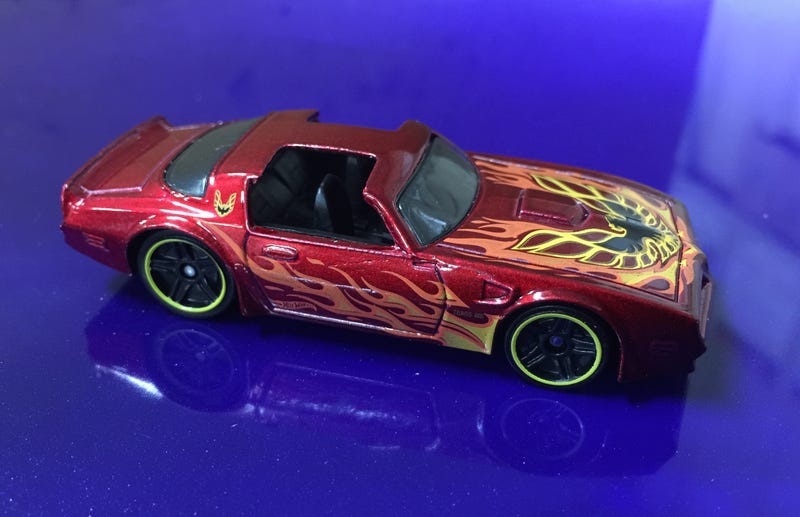 The '77 Pontiac Firebird. I'm not usually a flame guy but if any car should have flames I guess a Firebird is well suited. I don't know much about this cast or the 1:1. This looks like the same casting as the one used for Smokey and the Bandit version (2013?) but this has a plastic base and is dated 2015. I think this may be my first cast dated this year! It seems to get away with the large rear wheel set up but I'd like it more if the rears were the same size as the fronts.
The paint and tampos on this cast are superb, caught my eye when I found it and it was love at first sight.
It's really not a bad model of the full scale vehicle. Looks pretty accurate to me.
Grill mesh looks pretty well done and is part of the body cast. Needs head and tail light details.
I've always thought that the chicken on the hood should be facing the front. That way the 'beak' on the car could be the birds beak. That's probably just me though...
Ok, I decided to take the T tops off for a different look. This involved opening up the cast and carefully trimming out the two roof panels. Now it's apart I'll swap the wheels at some point.
The rest of the HW Flames casts are not bad either, I have 1,2&3 of the ten available. Hudson Hornet is high on my radar.
Some info from HW on the series: http://www.hotwheels.com/en-au/collecti…