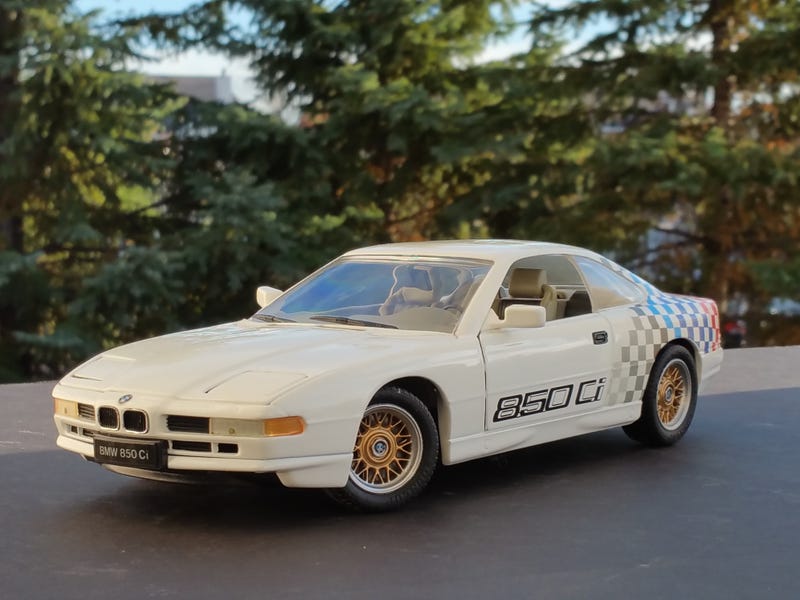 Since the BMW 850 was a minor topic of discussion last night/this morning, I decided I'd pull my old Revell out of storage and take some pics. As far as I know, Revell, Maisto and Yat Ming/Road Tough are the only diecast 1/18 850s out there. Ottomobile makes one as well, but that is a sealed resin model. Of the 3 diecast models, the Revell is the best, but it is a model from 1991, which means you get things like mounting stubs on the lights and all the badging is replicated with stickers. Accuracy is good, though the base of the A-pillar is a bit thick to my eyes. Fit and finish is good as well. The doors even use real-aspect hinges which is remarkable considering the age of the model. One downside of this particular model is that the checkered motif is a decal and is showing its age. I'd love to remove them, but based on my ebay searches, this appears to be the rarest of the Revell 850s. Interior and underhood detailing are good, only needing some paint to bring those details out.
As you can tell from the prominent door decals, this model is an 850 Ci. Revell also made the more desirable 850 CSi. Standard 850s typically are in the $50-70 range, and the CSis are usually at least double that. But deals can be had with patience.
Though the lights don't pop up, Revell did at least include the lens.