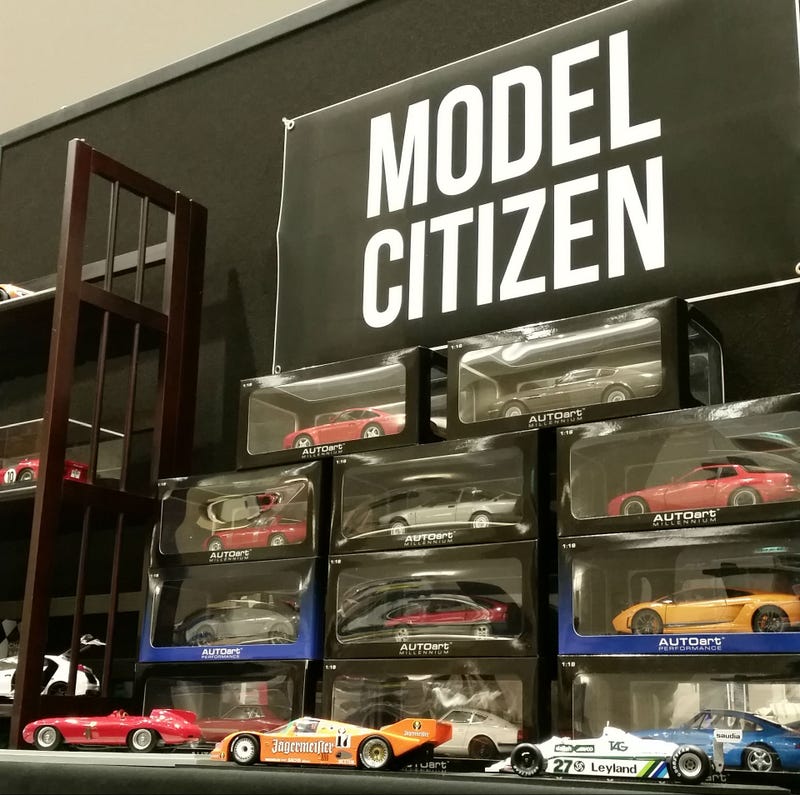 Model Citizen's first-ever trip to Monterey Car Week is in the books, and I have to say it was an incredible experience. After a quick stop in San Luis Obispo to meet TFritch and (unexpectedly) R32Rennsport, I made my way to Automobilia Monterey, America's largest automobilia expo. There, Model Citizen joined 40-ish other vendors of original automotive artwork, literature and memorabilia for a two-day sale. It was a huge success; we made a ton of new friends, and we sold a pretty substantial number of model cars, too.
I also got to hang around the streets of Monterey Peninsula in the evenings after the show closed, giving me the chance to do a bit of car spotting. Living in L.A., I'm pretty jaded when it comes to finding exotic cars parked on the street, but I have to admit getting a little verklempt when I stumbled upon this Bugatti EB110SS in Carmel…yeah, that's a Veyron behind it, but who cares? EB110SS!
So, with apologies for the late announcement, it's time to reveal the Model Citizen/LaLD Model of the Month: EVERYTHING. With a bunch of unsold cars from Monterey hanging around, and with new items expected for our slate of fall shows and the holidays, we're giving Live and Let Diecast! readers a 10% discount on everything we have in stock, including previously discounted items. Just use promo code LALDAUG from now through August 31st to claim your discount. We'll get back to our regular practice of picking one special car for you guys next month, but for now, enjoy the across-the-board savings…and have a great time with the rest of your summer!