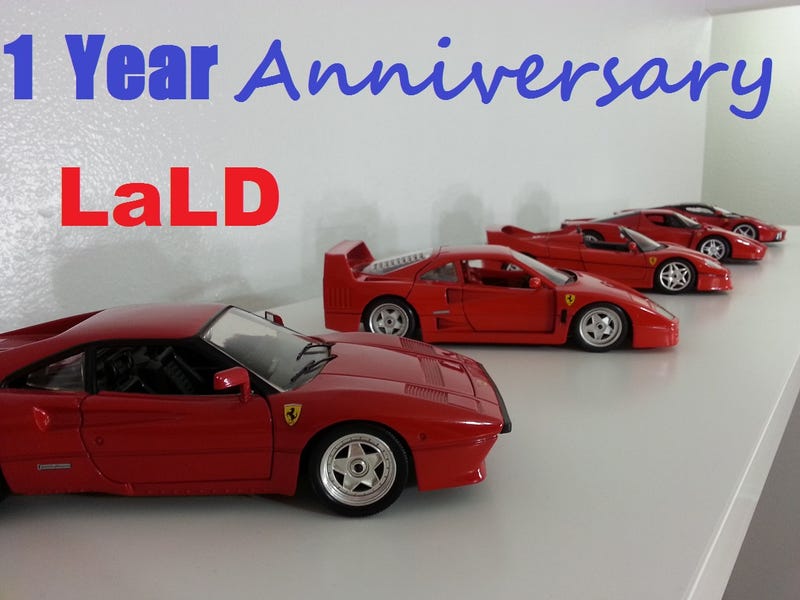 Hello and welcome to my tribute of a year of awesome LaLD reviews, Concours d'Modella, and tribute to LaLD in our first year.
To start off, I would like to thank ALL of our awesome, kind, loyal authors and contributors for being the key factor in LaLd's success and presents. YOU have been the ones who have set a level of quality and have built one of the most welcoming communities not just in the die-cast world, but overall in the blog/social media interwebs :] I'd like to personally thank you here and now for all of your input, interest, and kindness throughout the first year of LaLD. Also, a shout out to my fellow OG's on top of things here, Philipilihp, Sn210, Frosted the BCG, Jeff Simmons, and MCNR87. Dudes, you dudes are the best dudes!!!!!! Best group ever!
"LaLD = The BEST automotive enthusiast based Die-Cast blog in the WEEEELT!!!"
-EL_ULY
Our reviews are untouchable. Truly top shelf reviews could be found here on a daily basis. I give you permission to stop right here and click THIS link, go on :] Awesome right? There is a certain passion that is in every awesome review here on LaLD. The level of quality is top notch. Each post is unique and YOU all have done an incredible job this year. Much appreciated! It takes a certain love of the item to do these reviews and LaLD's heart is in the right place for our awesome hobby. Besides that, the items reviewed are absolutely incredible. I know my [WANT] levels always increase significantly during review posts lol. A draw back? Nah :] More like a boost in motivation to try and get more awesome die-casts. A reminder, we support die-cast addiction. Buy them all!!! (within reason lol). Though I must admit, I am a bit fond of a certain type of LaLD review specifically....... *clouds begin to form*
.... oh yes.... don't be afraid..... why?... because it's CONCOURS d' MODELLA TIME!!!!!
*Maestro, cue the explosions please*
LOL dork!!!!!
Yes, Concours d' Modella. The exclusive LaLD review scoring system. Created by early author Aya back in the OPPO days, we have seen some incredible die-cast cars visit our strict and keen eye's judges. Most have done well, but a few have come out without honors. The items that have reached scores in the the mid 40's absolutely deserved them for sure. Will we ever see a perfect 50 score? Maybe you scored some cars differently? Please, click HERE to take a overview of the awesomeness that is Concours d' Modella.
Thank you all for your time and input to LaLD. This is your die-cast blog. Never forget that. YOU are what makes LaLD great and thriving. YOU are the ones on social media ruling the world. YOU are the ones making the front page of Jalopnik. YOU are what makes LaLD an awesome place every single minute of every day awesome!! YOU ARE LaLD!!!
Thank You!!!!
-LaLD Staff :]
(videos courtesy if YouTube)
_________________________________________________________
Now.... to respond to the teaser pic from last night. I got some things in the mail yesterday..
ohhhh....
ahhhh.....
I love the Concours d' Modella posts and really miss doing them myself. One of the main factors is that most of my die-cast are at my parents house. No more!!! I finally found some time and decided to take them home with me.
I set a couple blankets down in the back my rental (battle wagon still out of commission). I carefully started to load my die-casts in 2 at a time. It took a while as you can see from the level of sun light lol :]
As much as I wanted to do a Concours d' Modella review, time was just not my friend last night. So I decided to do something a little different. Since Concours d' Modella is our spin to the famous Concours d'Elegance auto shows, I've decided on our 1 year anniversary to do an exclusive Concours d'Modella Auto Show "EL_ULY Collezione" for you all. Some are a bit on the dusty side and the lighting is not too good, and shaky, apologies. (switch to HD)
Enjoy :]