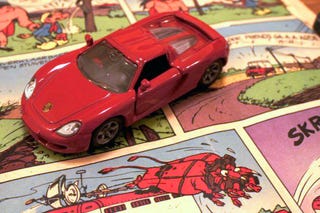 Or Maybe it's a bit orange due to improper lighting (I really need to get me that light-box)... Last week I was beaten to it by Rennsport32 with his RS2000, this week RockyClock is 'stealing my shine'. But I don't care as I only had time to grab my 2-years old's Siku Carrera GT last night and take some quickie pics.
And using a comic as a background is hardly original as well as forgeryfade showed us last week. But these comics I got in a pretty comical way: They were used as insulation I ran into when reconstructing the house and they're dated back to 1966.
And that's probably more interesting to you as you all know the Carrera GT. I should have done a picture of it's profile to show how good this Siku actually as but as I said: I was in a hurry. And this Porsche can be a bit of a prelude to next week's Teutonic Tuesday as I've got some 1/64s coming over from Germany that should be pretty neat, if not the best of this scale I've ever owned. I hope.
In my younger years I loved Siku's habit of displaying facts on the undercarriage, the Carrera GT doesn't dissappoint: ein 5733 ccm Zehn Zylinder, 612 Pferdestärke am 8400 Umdrehungen pro Minut was zu ein Höchstgeschwindigkeit von 330 km pro Stunde leitet!
Actually I like it that much that if I ever run into another I'll just have to get it. Improper scale (because it's not 1/64) to fit any of my dioramas or not. Schönen Tag euch allen!
EDIT: Thanks to minicadriver, AKA iDSi_guy the opening shot was de-oranged a bit, this was the initial picture: