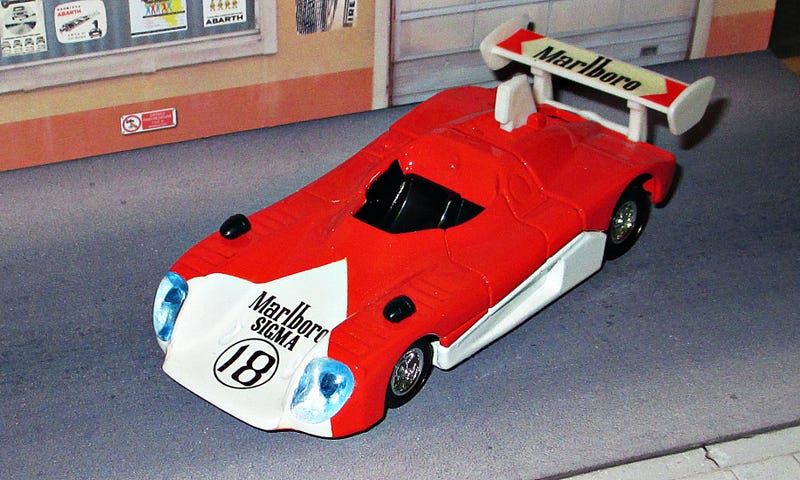 With less than two hours to go, it seems that Toyota will take out this year's LeMans race ahead of Porsche. But, as we all know, success like this doesn't come overnight. In fact, Toyota's first engagement with LeMans came all the way back in 1975 with this car - the Sigma MC75.
Sigma was formed in 1972 as Sigma Automotive Co., Ltd by Shin Kato to develop and produce motorsport related parts and accessories as well as operating their own racing team. Sigma began its racing career in the Fuji Grand Champion Series and for the following year participated for the first time in the 24 hours of Le Mans with their Sigma MC73, powered by a Mazda Wankel engine, becoming the first Japanese car to qualify for Le Mans, before retiring early in the race with electrical problems. The team returned for the following year with a Mazda backed MC74, finishing but not making enough laps to be classified. In 1975 the team switched to a Toyota powerplant in the MC75, only to suffer from another early retirement - the oil pump broke down.
In 1985, the racing division of Sigma Automotive became an independent company, Kato established a company called Sigma Advanced Racing Development (SARD) specialising in motorsport as well as producing aftermarket parts for Toyota automobiles. SARD Toyota Supras were a big feature of the JGTC series.
So while this racer only had one unsuccessful outing, it opened the door to much bigger things. The main problem might have been that Toyota engine - a puny 2.3 liter 4 cylinder turbo charged affair - at a time, when such things were still very new.
The model here is a Tomica Dandy - which explains the lack of decals. As usual, a sticker sheet is supplied. But as you can see, they are already yellowing and peeling, just from being in the box. They'd look a lot worse if they were on the car.
And if you wonder if such an obscure one hit and miss car is worthy of inclusion on this hallowed racing day, just remember that renowned maker of obscure LeMans racers "Bizarre" have deemed it worthy of inclusion in their model line up. That model is of course far more detailed - and terribly hard to find. I'll just stick to the Tomica.