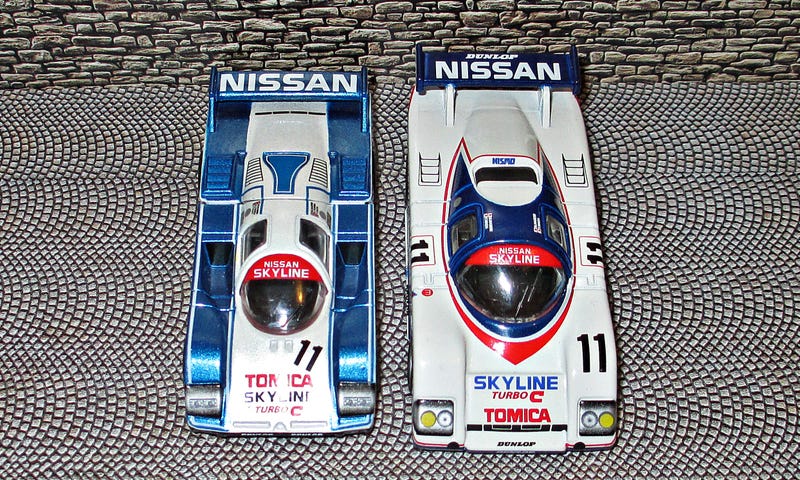 Details on these racing cars are really sketchy - at least on the English speaking web. But here's what I know: In 1984, Nissan entered the Group C racing using Lola chassis. The car on the left is a 1984 model - on which I can't find anything. Maybe it only raced in Japan?
As Tomica sponsored a lot of Nissan race cars at the time, it is not surprising that they made the models as well. This car appeared not only in the regular Tomica line-up at the same time, but also in the Tomica Dandy 1/43 range.
It may have been entered at Japan Sports Prototype Championship (JSPC) events - but I can't find any record of it. There's no mention of it on the official Nissan Motorsport website either. It's all a bit of a mystery to me. If anyone knows more, please let me know!
Good then that we know a lot more about this model - the 1985 Group C entry. This one is the R85V - and it pops up right at the beginning of this video about the 1985 1000km race at Suzuka:
It featured a 3000cc 6-cyl engine with "over 980hp". Still, it's results did not seem to be all that great from what I can work out. A version of this car was entered into the 1986 24h of LeMans - placing 16th.
So - between your Sauber and Silk-Cut Jaguars of the same era, not to mention the all=conquering 962s, these cars didn't really stand out internationally.
But they paved the way for more racing success in the future, after all, you got to start somewhere.
The models are from a Tomica Limited Set - the castings are contemporary with the actual cars, but given the "Limited" treatment with bespoke wheels and tyres, plus more detailed tampos.