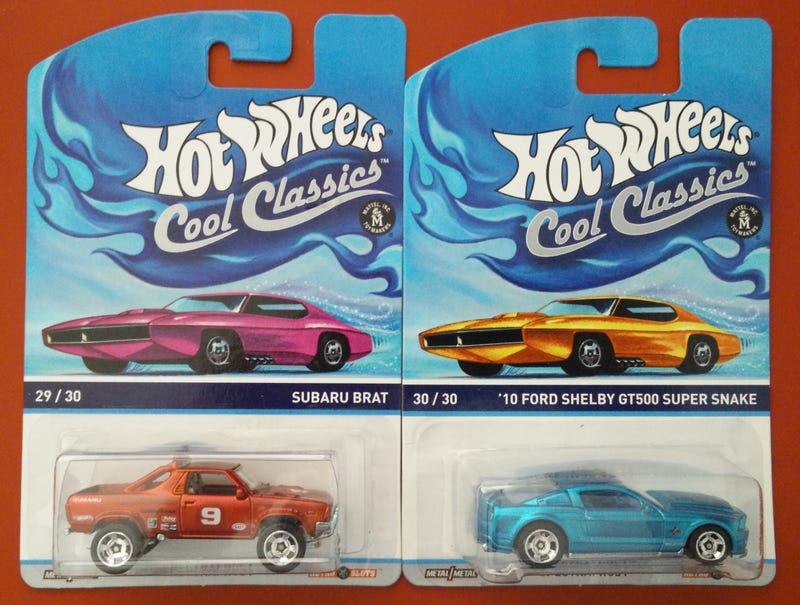 For some reason, the Target closest to me decided to restock with Cool Classics. This Target has also drastically reduced its diecast section, leaving only about 10 pegs for Hot Wheels and stocking exactly ZERO Matchbox singles. Therefore, it was a total surprise that I found this, as Cool Classics are long gone by now.
This particular mix of Cool Classics also includes the Datsun 240Z, 510, and Chevette. However, I didn't find those (*cough* scalpers! *cough*). Come on scalpers, you can take all the Datsuns but at least leave me with a Chevette!!! There were also a few cars from previous mixes such as the Plymouth Duster Thruster and 1st gen Corvette, which I did not pick up.
I'm happy with finding the BRAT and the Super Snake was a bonus. I've actually found the Snake before at a Toys'R'Us, but they wanted $5 for Cool Classics, so I passed. Anyways, I took a few shots of each:
The only other Cool Classics I have in my collection are the Camaro Concept and the Honda CRX. I like the CRX a lot but as a whole, my opinion of the Cool Classics series is a big fat MEHHH. All of these cars have a nice weight to them as they're metal/metal, but the retro slot wheels aren't for everyone (or, rather, every car) and the detail is lacking. The Spectrafrost paint is mediocre and unrealistic, and I definitely would've preferred Spectraflame instead. But hey, at $2.50 apiece, it's not a bad deal.