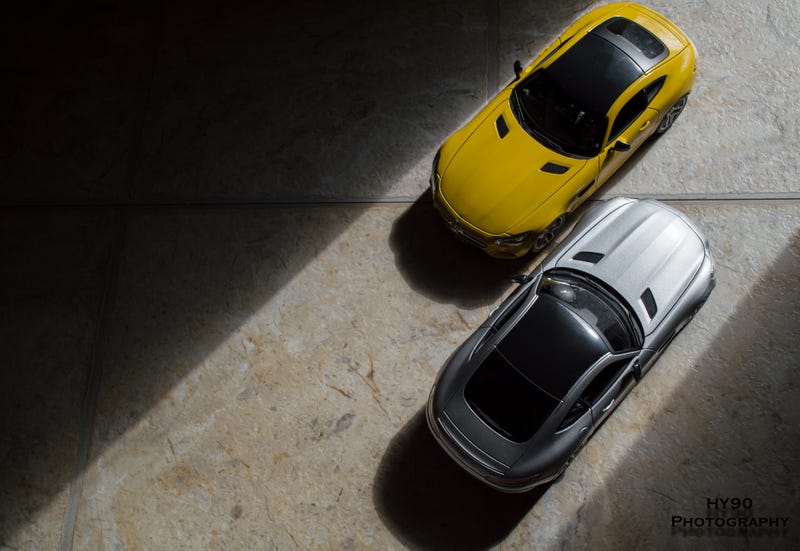 With the recent announcement of Motor Trend's Car of the Year being none other than the stunning AMG GT, it seems only fitting to write a short review over the similar Solarbeam Yellow AMG GT made by Maisto.
The model upon examination, features the basis of what'd you expect from a entry level budget model car. Solid piece of grill and two cooling ducts on each side are represented in somewhat decent detail. Of course being a Maisto, this isn't really a issue, considering it only costs me about $14 from Costco.
The motor is again, typical of Maistos. It features a solid piece of plastic with decent details. However, i do have to say this is pretty well done on Maisto's standards. The monstrous V8 Bi-Turbo is above average for a budget model.
The interior in my opinion is pretty well demonstrated as it features a good amount of details ranging from the AMG logo being printed on the seats, to the carbon fiber mimic on the center console. I was pretty surprised Maisto actually attempted the carbon fiber, albeit only a little amount is included, but it makes the interior stand out that much more.
The wheels and brakes are executed nicely. Although i do admit it's a bit on the plastic-y side. The rims are AMG's twin 5-spoke, housing what i suspect to be the carbon ceramic brake discs, which in real life costs a hefty $8,950 not including the likely dealer markup.
I am a pretty huge AMG fan. I have around 11 AMG models (if you consider Paganis being AMG products with the Mercedes sourced powerplant, i have 13 models haha). Maisto's take on the AMG GT is pretty nice. Although nowhere near the level of details provided by the Norev counterpart, it's a great model to help expand your collection without having to break your wallet. There's also a silver available (as seen in the first pic) but after i saw the yellow one yesterday, i had to get it.
Cheers!
2016 Camaro review coming soon. Then the long awaited Pagani Zonda Revolucion to following in the coming weeks.