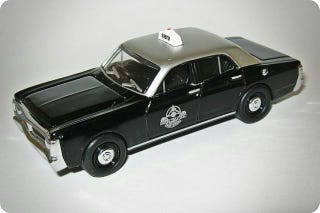 Hello, seeing that people seemed to have enjoyed the Holden Sandman, I thought I might show another Australian classic - the XY Falcon dressed up as a Melbourne, Sydney and Brisbane Taxi. So you get three for one today.
This car was Ford's bread and butter sedan in Australia from 1970 to 1972. The design started in 1960 as a faithful copy of the US Falcon - but the cars became more "Australianized" as time went on. Today, the Falcon is a completely independent design from any other product in FoMoCo. Which is a problem and means that they will kill it off next year or the year after. Bummer.
The XY Falcon is more famous for its "GTHO Phase III" Homologation Specials made for the Bathurst race - but that's another story.
This model was Cooee Classics' first casting - and it shows in some areas. The engine hood is a bit too short, the wipers look a bit wonky, the coke bottle hip is a bit too large. But I bought them anyway, as no one had done a 1/64 Australian Taxi before, and anyone making local 1/64 models has my support.
Just a quick word on the different liveries - the first one is a Melbourne "Silver Top" Taxi, the one in the middle a Sydney "RSL" cab, and the bottom one a Brisbane "Yellow Cab".