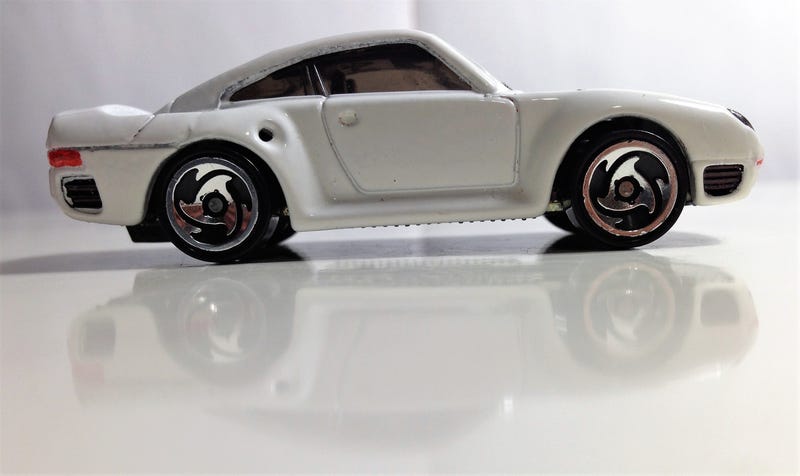 How come I never thought of posting the 959?!?!

I always feel that I don't have enough cars to feature for Teutonic Tuesday, turns out I was just an idiot. But come to think of it, I'm glad I held off on sharing a legend til this special day.
The Porsche 959 was Porsche's answer among other manufacturers such as Ferrari that wanted to compete in what many considered as the "golden era of rallying" the Group B. Sadly expectations fell short when the Group B came to an abrupt and tragic end, but that didn't stop the Stuttgart marque to make the 959 their Concord moment of automobile of its time as well as salvaging the broken hope of competing in motorsport.

In the 80's it was not only the fastest road legal production car for a short period but also the most sophisticated production car ever made. It was manufactured in the same factory and by the same people that manufactured BMW's first supercar, the M1. Body panels such as the doors were made of lightweight Kevlar, magnesium wheels with hollowed spokes with the world's first tire pressure monitors integrated in it. There are a total of 7 computers that cost as much as a current Mitsubishi Mirage controlling everything from how much power each wheels get from the super advanced all-wheel drive system to controlling the world's first adaptive suspension system that even F1 teams at the time were struggling to make it work. The car's special "brains" also modulate the twin turbos by controlling the wastegates to allow exhaust flow through just one turbo at low revs and only allow exhaust to spin both turbos under high loads to provide a smoother transition of power and remove the reputation of being a "Widow Maker" that the Porsche Turbo at the time is known for.

Porsche didn't gave up on wanting to show the world the 959 was engineered to tackle the roughest terrains and entered it in one of the toughest race on Earth, the Paris-Dakar rally and a won 1-2 finish in 1986. That off-road potential is evident in the road going car with the complex suspension system that included a lift feature that can raise the car by 2 inches by the touch of a button which is still impressive in today's term. The gearbox have an extra gear between First and Reverse indicated with a "G" for Gelande on the shiftknob that serve as a low-range gear.

The Porsche 959 was a quantum leap for both Porsche and for automobile alike, all its technological innovations accelerated development for all future Porsche models that came after it and some of those features are just starting to appear in some mainstream cars 20+ years after. It's incredible to think how much time and especially money Porsche invested into developing the 959, it's no wonder that Porsche refused to simply donate four 959s to the NHTSA so they could be filled with dummies and get smashed into a concrete wall to be evaluated.

This HW example I have here wasn't this pretty at first, it started life with obscene tampos that covered about 3/4 of the car, this is what the car looked liked before:

It is without a doubt, the 959 is one of the greatest cars in history.