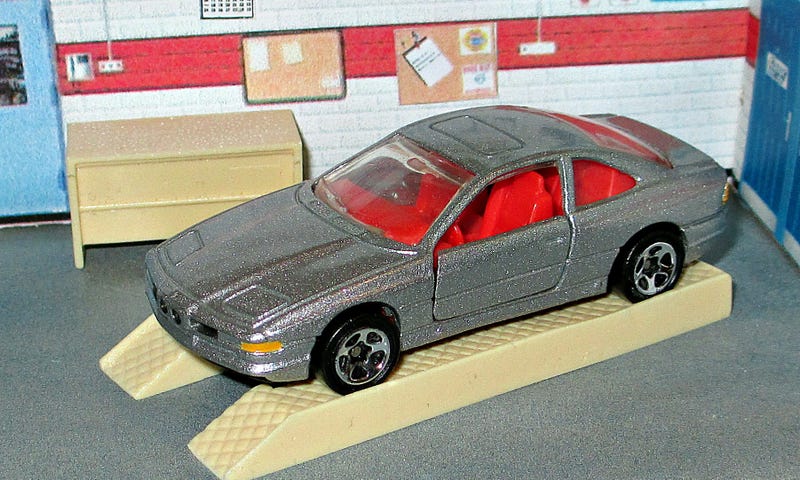 There seems to be a lot of love for the BMW 850i around here lately. Which seems to be odd, as the cars never really were a big hit when new. Only 31,000 units were sold between 1989 and 1999 - and that's for the entire 8-series, not just the 850. Planned models such as a Convertible and an M8 version never reached production.
Today they are one the (if not the) cheapest ways to get behind the wheel of a 12 cylinder car. Here in Australia, they start from AU$ 16,000 for a tidy example. Strangely, the 840s seem to command higher prices than the 850s.
The problem is of course, if something goes wrong, well, you can spend the purchase price of the car again (or more) on getting it fixed. Ouch.
As mentioned in the title, the model shown is the Hot Wheels version of a Corgi casting. I've never seen the Corgi version, and I'm not sure when they came out, but this one was released in 1996. The metal flake paint effect is done on purpose - that was a bit of a thing for HWs in those days. It was only made for the years of 1996 and 1997, so they are not that common, but that doesn't make them expensive. A fiver should do it.
HWs also had their own 850i casting, which was made from 1991 to 2001. And quite frankly, it looks rather poor by comparison. I don't have one, so here's a pic from the net. The easiest way to tell them apart are the doors. They open on the Corgi, but not and the HWs casting. That, and the overall cheesiness of the HWs casting.