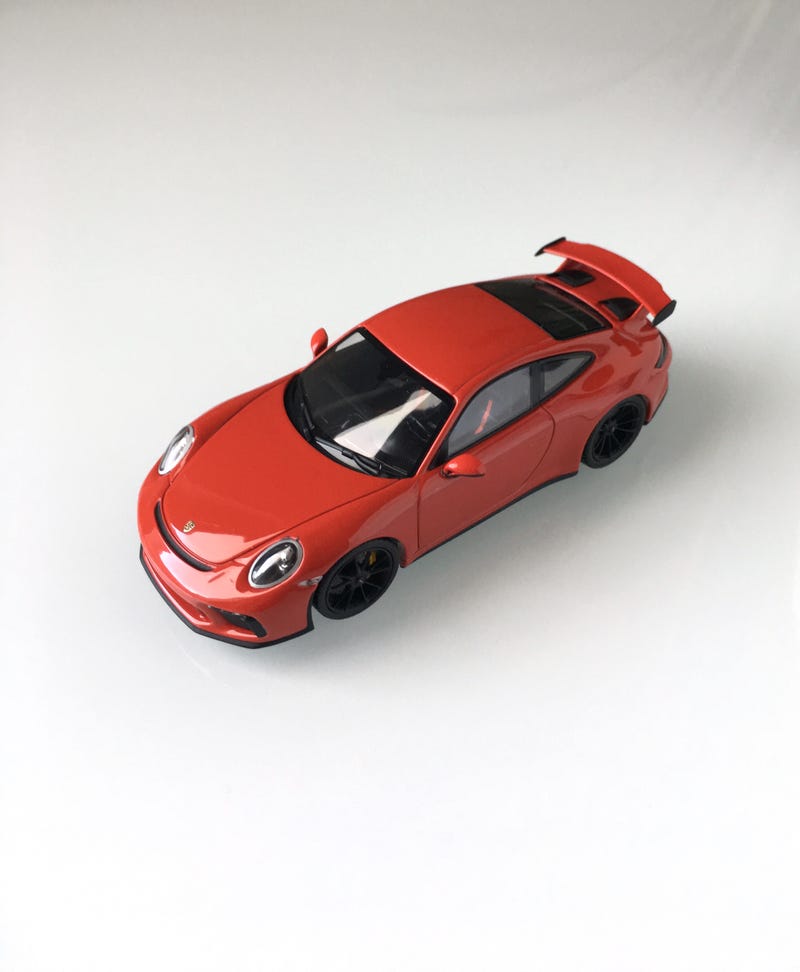 After my little teaser just before the long Easter weekend I feel obliged to deliver on my promise.
Browsing my usual modelcar online shops I came across a model so new I haven't even seen the original yet. Porsche and Minichamps must have thought they should offer something to the fanboys as soon as possible. And how right they were!
Apart from some minor yet obvious exterior changes the main changes lie under the hood of the 991.2 GT3. Powered by a 4.0l naturally aspirated engine it will now again offer a 6-speed manual as a no-cost option (no kidding).
The model shown here comes in the standard guards red paint with PCCB brakes and black alloy wheels. In my opinion the silver or platinum wheel would have enhanced the look even more, but it will have to do for now. In some angles the black works very well though with the other black details such as window surrounds, rear wing, bumper and side skirt.
Speaking of black details, the side mirrors showcase the attention to detail of this model. The lower part is clearly set apart from the top and also shows the the "hole" in the mirror arms which are obviously tiny on this model.
Additionally the model offers an adequate for its size look into the interior with the seat trim being clearly visible and true to the original.
Overall this model delivers a very honest representation (pending my comparison with the real car) I would have preferred light colored wheels as seen on another Minichamps 911 I will showcase soon as I think the black drowns out some details.
Next up is a 90s predecessor of the GT3 although in a special configuration. 911 '993' RS Cup
Thanks for reading and cheers from Germany!