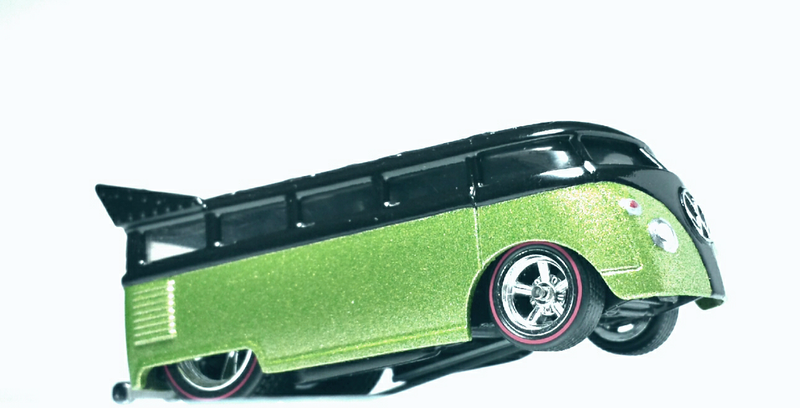 This is my first commissioned custom that I did in trade for a dozen or so older treasure hunts. I had free reign on this one and since I usually don't gravitate toward fantasy casts that actually made it hard on me to settle on a theme. I settled on a two tone theme with a metallic golden green as a nod to the treasure hunts that I was trading for. It also gave me a chance to use my new chrome pen on the big VW up front.
I always forget to take a before and after picture to really showcase all the subtle and not so subtle changes. At the end of the day I tried to make this one a little more realistic but ultimately it's still a mid mounted chopped VW bus. The biggest change was grafting in the complete back of the Drag Astro Van cast with its parachutes and wheelie bar which required extensive use of the Dremel. Also using the Dremel I rounded out the front wheel arches as I absolutely hated what HW originally designed. I think the exaggerated look goes hand in hand with this exaggerated cast. This facilitated moving the front axle back slightly to center it again as well as needing to go up a wheel size. I took off about 1mm of lower rocker panels, as well as thinning out the side pipes to lower the whole chassis and level it out. Speaking of exhaust, the stinger pipe was deleted and replaced with a surfboard.
I hope you guys enjoy this not typical creation from my work bench! PS, no clear coat on this one since I wasn't sure how it would react to the chrome paint.