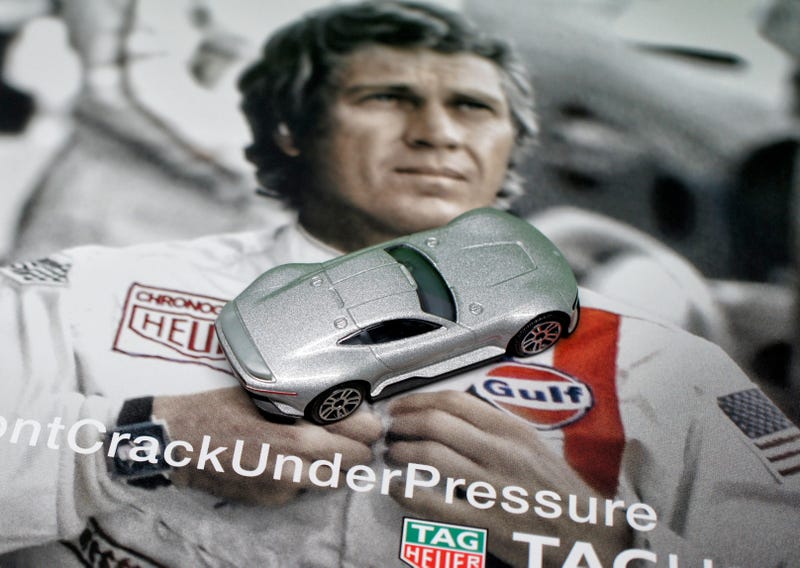 An aftermath post from my holiday. As I took Majorette's multipack Vision Gran Turismo set containing the Alpine, the Peugeot I showed last Friday and this Teutonic beast: the Mercedes-Benz AMG Vision Gran Turismo.
It was virtual at first, designed for the PlayStation® 3 racing game Gran Turismo® 6. But Mercedes showed the world a 1/1 model at the opening of the new Mercedes-Benz Research & Development Center in Sunnyvale, California.
According to Mercedes-Benz/Gran Turismo it was rated for having a 577bhp, 590lb ft 5.5-litre twin-turbo V8 (borrowed from the new E63 AMG S), enough to get it from 0-60 under 4.1 second and give it a top speed of over 197mph. Those are Mercedes' own SLS specs but with a weight advantage of 250kgs less it has to be significantly quicker.
It's body is supposed to be a reminiscent of the older SL race cars, especially the legendary 300 SL racing car of 1952. But instead of the classic louvres the grille of the show car features exclusively LEDs. No need to show off apparently.
At the rear it's show off as well as it is supposed to have 8 exhaust pipes. EIGHT! I'm glad Majorette decided not to implement those on their 3" cast. I am however not that glad with the metallic paint Majorette used as it's a bit too flaky.
Especially when you try to experiment a bit with lighting it appears to be a big X-mas tree.
Then again: I think this is my favorite of the multipack as it comes most near to a useable car, especially compared to that Alpine. Which actually was the reason to get this three-pack in the first place. And that's it for this Teutonic Tuesday for me!
Tschüss!