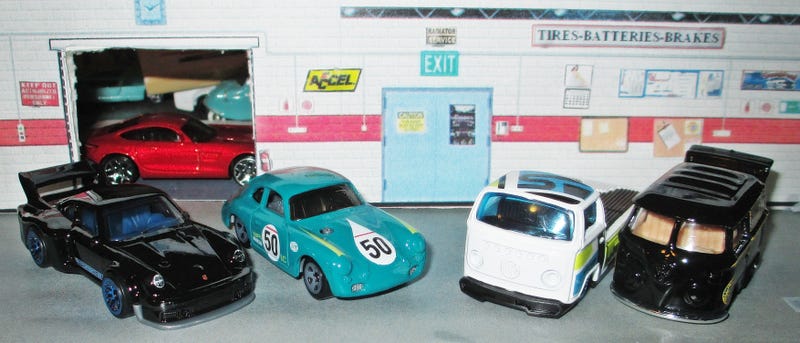 As most of my twelve Instagram followers noticed, I struck it a bit lucky in the Supermarket on Sunday and stumbled across a brand new Hot Wheels case. And I walked out with 10 models, the most cars I have wanted from a case in a long time. And as luck would have it, four of them were air-cooled, rear-engined beauties. Let's kick off with a star of the show - the 356 Outlaw in turqoise:
So far, HWs have resisted making a terrible version of this model, and I hope they resist a bit longer.
Next up is the 934.5 in black - I still need to find the white version though:
And now for a couple of commercial vehicles from Wolfsburg: First up, the Type 2 Pick Up in white, rather than the creamy-brown the first edition featured:
And the "Kool Kombi" in black -I'm not the biggest fan of this casting, but I liked the look of this version:
There's a bonus feature too, a water cooled Teuton from Stuttgart - the AMG in burnt orange. I hope the Tomica arrives soon, so I can pit them against each other:
The rest of the cars were Japanese - and one Pagani...
So that's all for today - auf Widersehen, bis nächstes mal.