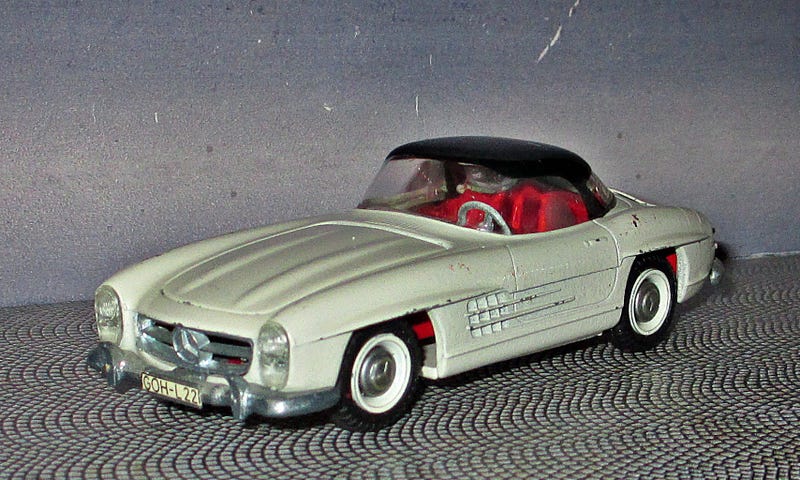 The story of the 300SL is well known. Essentially, it was (at least in "Gullwing" form) a race car for the street. The Roadster version was introduced in 1956 as a more user friendly version as getting in and out of the Gullwings tended to be a bit of a challenge.
In either form, the 300SL was just about the fastest car on the road in the late 1950s, and only the seriously rich could afford this machine. It is also often credited as being the first production car with fuel injection. But, actually, two other German cars beat it to the punch. The actual first injected car was the very rare and nearly totally forgotten Goliath GP700 Sport. But that is extreme car nerdery.
The model you see here is a 1/43 by Tekno of Denmark. Back in the 1960s, these were the yard stick for quality diecast. Tekno went under some time in the early 1970s and "new old stock" was still being sold when I was a kid. And this is how this and a few others came into my hands. It was a good day indeed when the pocket money stretched far enough to afford a Tekno.
Of course I should have kept it "Mint in Box" - but it was such a lovely model to handle that I could never resist having a play with it. No regrets there, just good memories.
And that's all for today's Teutonic Tuesday - can't wait to see what other German marvels will be on display today.