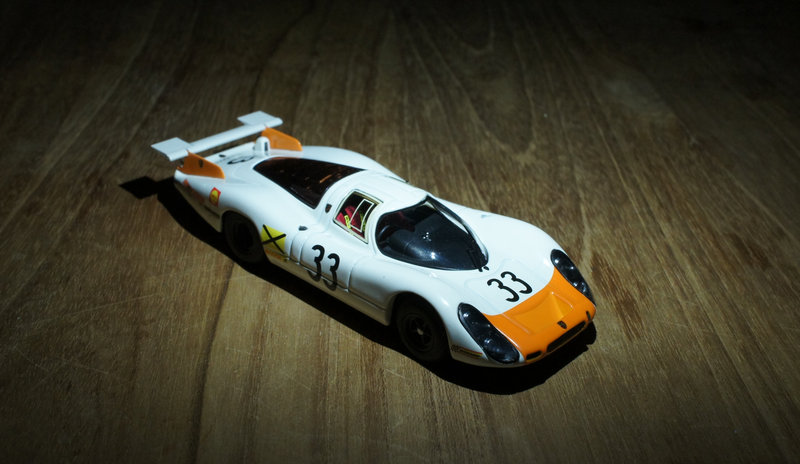 Of course you've all heard about Porsche's epic return to Le Mans by winning the LMP1 with it's 919 hybrid. So to celebrate this win I once again give you a Porsche Le Mans racer. And one of the least successful this one was.
And I can hear you think: Didn't we see a 908 before last Friday? Yes, you're right. Last week's French Friday I've displayed the Peugeot 908 Hdi FAP. But this one is a little bit older, it's the Teutonic 1968 Porsche 908.
Developed just before the most epic Porsche Le Mans racer was introduced, the 917. And fitted with a 350hp flat 8. As the world, according to Porsche, is flat of course.
And although this 1/43 Schuco is rolling on it's wheels like there's nothing else to do, at Le Mans they failed miserably. Because this factory Porsche number 33, driven by Germans Jochen Neerpass and Rolf Stommelen, only achieved a 3rd place. After a 'privateer' in an old Porsche 907 which finished in second place. (And yes, 'Murica won with it's GT40)
And the other 3 remaining Factory-908s? DNF. Two due to technical issues. And one even got disqualified for an 'illegally repaired alternator'. Whatever that means.
And while not the most powerful Le Mans car in 1968, it was the one with the highest top-speed recorded that edition. While there were much more powerfull cars (Matra's incredibly handsome MS630 V12 had 385hp where the 908 had to do with only 350) it's sleek line and low drag made it's top-speed unapproachable for it's competition.
This is my second Schuco 1/43. And I truly adore it. It's decals are awesome (the Porsche emblem above is just a bit blurry because I focused entirely on the S.E.V. Marchal's black cat, believe me it is amazing!).
And they can be found for decent prices (just over 10 euros, new), probably because the 908, well, wasn't actually a success. In this closed coupe form that is, the latter 908/02 and 908/03 (both open cars without a long tail) would prove to be successful in places the 917 just was too big. Twisty tracks like the Targa Florio. And the Nordschleife.
That 908/02 was actually the car Steve McQueen used in his 1970 12 hours of Sebring. After this the car was used as a camera-car at the 1970 Le Mans race. Which footage was used for McQueens 'Le Mans' movie.
Well, one more 'Le Mans' car coming from me this week to end this madness. Of course next Friday. And of course French. Sort of.
Richtig Deutsch dieser Schuco. Ich brauche mehr. Vielen dank euch allen. Viel spass Heute!