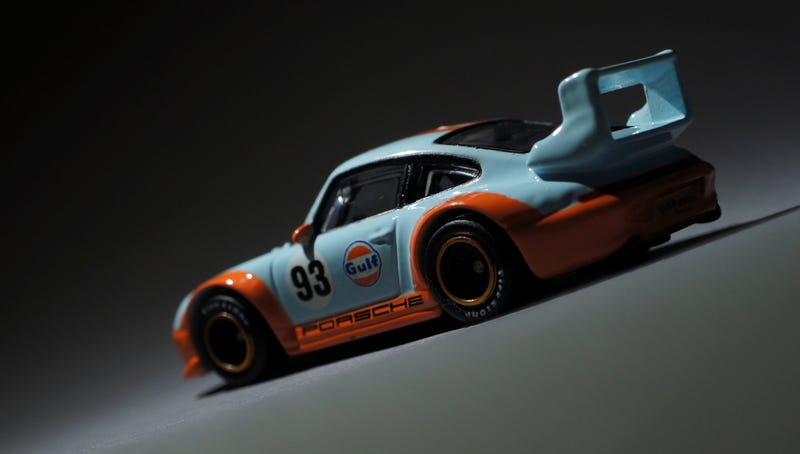 I did mention before I got a surprise-box a little while back from the USA. Next to those Alfas I got (totally unexpecting), there was a gem inside that box just waiting to be shown on a future Teutonic Tuesday. So this week I'm putting it on display. An epic one. The March 2016 HotWheelsCollectors.com product code DJX40, the Gulf-Porsche 993. Wow.
I love it dearly. Not perfect (mainly overspray issues where the orange meets the blue, a bit of a sloppy logo-finish) but nevertheless: awesome. HotWheelCollectors' starting point was good to begin with as the 993 GT2 definitely is one of the best HotWheels casts ever if you ask me.
It might even be my only HW with Real Riders, that's nice for a change. And not just that: that Firestone on the walls is epic. Especially for a factory HW. But best thing of this cast is it's bumps, humps and bulges. That gives nice results when playing a bit with the light source.
But the normal 993 GT2 already had that of course. I'm just glad HW decided to add so much detail to this one. I won't bother you with the history on either the 993 or the GT2 as these are tales well known.
So vielen, vielen Dank Herr Dreizehn for making my day back then. And now. And every single time I pick it up. Even just in it's amazing package.

So why a shout-out to TFritch in the Title? Because his second attempt for my missing input-shaft bearing was way better. I got it at my dealer's but it was TFritch that got me in the right direction for the correct partnumber. Thanks for nothing BMW Netherlands.
Just another proof of how an amazing place this little blog is. Again.
So das war es wieder. Tschüss!