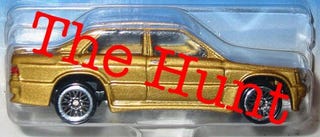 A long long time ago, back before I had kids and back when I had a job where I could slack off, I used to do The Hunt posts.
These regularly scheduled posts would be a running tally of LaLDer's want lists. This way, you could keep an eye out for your fellow diecast homies and set up some awesome trades to cross things off each other's lists.
I've been asked by a few to get The Hunt going again, so here it is.
Tell us what you are looking for in the comments and keep an eye out for something someone wants that you might be willing to trade away.