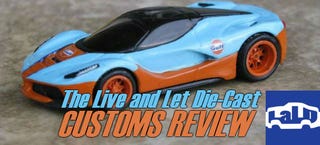 Tonight: A Range Rover appreciates its nasal cavities, a Karate Kid goes Back to the Future, a Ferrari gets all Gulfy, a cookie monster finally gets recognized, and an unfortunate incident leads to a fortunate epiphany. This is all ahead on this week's Live and Let Die-Cast Customs Review!
Let's go in the order above, because why the hell not.
Thanks to Benjamin Rolland I found myself with a Range Rover and in need of an idea of what to do with it. That is, until I rewatched Top Gear's Bolivia special. So behold! The first of (hopefully) three: Clarkson's Rangy.