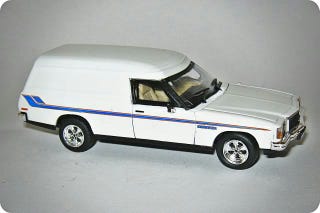 How many cars do you know that were made for surfers? Not too many, I bet. But in the 1970s, Holden wanted to cash in on the culture of sun, sand, surf and sex. And they created an Australian legend. The Sandman.
Based on the standard Holden Ute and Van, the Sandman was kitted out with the bucket seats, wheels and other trim from the sportier "GTS" models of the Kingswood sedan range. And a special paint job, of course - with "Sandman" written in bold letters on the tail gate. And the people loved it.
You could put a surfboard in the back - or a mattress. And you could apply a custom paint job on the panels, as many did. That's why one with the original paint job is exceedingly rare today.
The Sandman range was made from 1974 to 1979 - this model here shows the last variety (the "HZ") which came with a standard V8.
Holden will roll out the name once more for one of the last Commodore utes before Australian production closes for good.
This model is a 1/64 by Biante - the largest and perhaps best known Australian diecast brand. They mainly focus on Australian Touring cars - old and new - in larger scales.
Their 1/64 line came to a premature end when the company that produced the castings for them went belly up in China. Or so I was told - but apparently, there will be no more small scale models from them. And this was one of their last.
Aussie Road Ragers have since released a similar looking HQ Sandman model, which I still need to get.