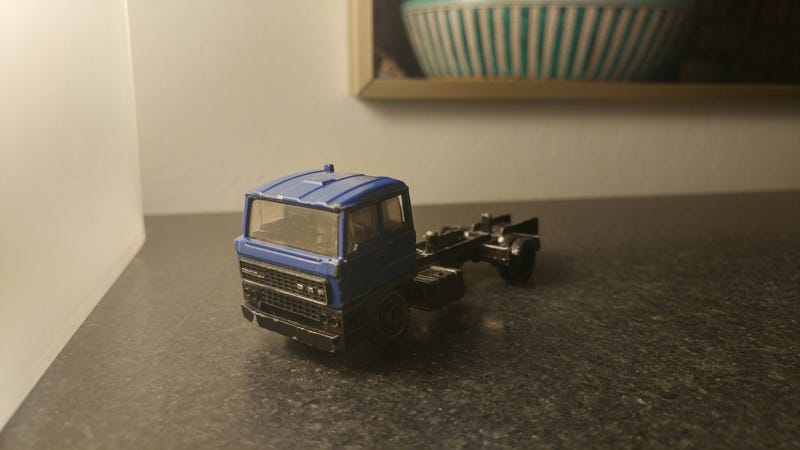 Efsi was a Dutch diecast brand in the 70s and 80s with quite an interesting story. Here are three of their models.
In 1959 Best-box was born in the southern Dutch province of Limburg, specifically because the Dutch importer of Danish toy car company Tekno wanted to have a Dutch Matchbox. Incidentally, that importer later took over all of Tekno and moved production to the Netherlands.
Best-box produced DAF trucks and Model Ts, but also this very nice Citroen Dyane below. 
When in the late-60s the mines closed in Limburg, the Dutch government looked for ways to employ all the out of work miners, resulting in some DAF and Nedcar production moving to mining town Born, but for the disabled miners other work was found. Best-box became one of these designated workplaces. Management of this "social workplace" program was then placed under the Foundation for Social Institutions (Fonds voor Sociale Instellingen in Dutch, or FSI). Initially production continued under the Best-box name, but possibly due to similarity with the name Matchbox it was renamed Efsi, the phonetic pronunciation of FSI, in 1971.
Best-box/Efsi built anything from early-60s F1 cars to a Jag XKE convertible, but was mostly known for their large range of HO scale work vehicles and company branded Model Ts.
In 1988 the program for disabled miners was discontinued, and Efsi changed it's name to Holland-Oto, which is still in production and affiliated with brands like Universal Hobbies and HiSpeed.
These three models are from my childhood collection. The DAF 3300 truck used to have a box on the back as a PTT Post (former Dutch mail company) delivery truck, the coach bus has opening luggage doors on the bottom, and the Model T is branded van Gend & Loos, a Dutch shipping and distribution company now owned by DHL.
And here is a bonus for Vdubyajohn, a Celica by Yatming that I apparently had...